A Level Success Stories 2019
Please read our Headmaster's comments about this year's A Level results here.  As ever, there are many individual success stories amongst our 2019 Leavers – just some of them are highlighted here:
BRILLIANT HEADS OF SCHOOL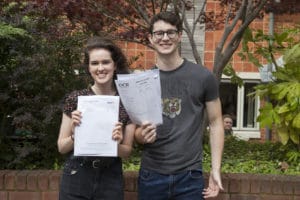 Joe and Anna (both pictured here) have been terrific in their roles as Head Girl and Head Boy. 
Anna achieved A* grades in all four of her subjects (Biology, English Literature, Geography and Maths) and will go on to read Geography at Cambridge University (Pembroke College).  Last year, Anna beat 110 other pupils to win the Corpus Essay Prize for Geography, with her essay titled 'Is a borderless world a dream or a nightmare?'
Joe is off to Durham University to read Natural Studies having achieved three A*s and an A (in Chemistry, Maths, Further Maths and Physics respectively). "I am excited at this next stage of my life," says Joe. "Caterham has been such fun, and I have loved all the sport."
 BUILDING A BRILLIANT FUTURE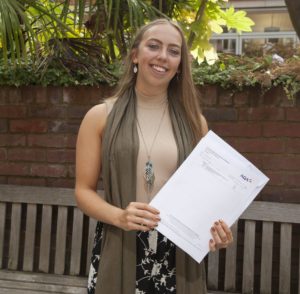 Many congratulations to Ashleigh, who achieved three A*s and an A (in 3D Design, Maths, Further Maths and Physics respectively).  She will now go on to read Engineering at Oxford University (St John's College). "I had wanted to be an architect, but I am now looking at civil engineering as a possible career, in part because I love physics," she says. "I am very grateful to Mr Mansell, our Head of Physics, as he has been so helpful and supportive."

APPRENTICESHIPS BECKON FOR ALICE & CHARLIE
Charlie and Alice both joined Caterham 15 years ago in our Pre-Prep School and have now won prestigious degree apprenticeships.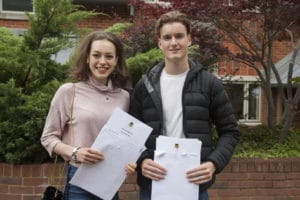 Charlie says: "I have made so many friends over the years here at Caterham." He had considered a degree in either psychology or business studies at university – "but our Head of Careers, Mrs Brown, suggested I looked at degree apprenticeships, and I am delighted to have been offered one by EY within their financial services division; I will also qualify with a degree in Business Management."
Alice will complete a 4-year programme with BP, also leading to a degree in Business Management.  She won one of just three places within BP as a trainee HR Manager.  There were 3,000 applicants, and she will now be BP's youngest employee!
MAKING POLITICAL HEADWAY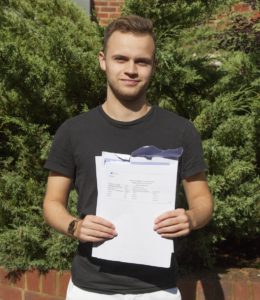 Rory was recently elected to represent the 150,000 young people in Surrey, as their Member of UK Youth Parliament.  The youngest of three siblings to have been educated throughout Caterham School, Rory is now off to read International Relations at the London School of Economics. Rory says: "I would like to thank my teachers, especially Mr Cooper, who inspired my interest in politics."
 CARPE DIEM, ROWENA!
Many congratulations to Rowena, who achieved straight A*s in Latin, Biology and Geography.  She has won a place at Cambridge University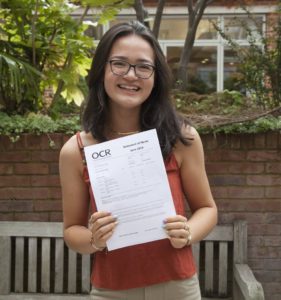 (Gonville & Caius) to read Classics. "I wanted to study Classics at university from the start of my time at Caterham," says Rowena.  "The Classics Department could not have prepared me better for the Oxbridge exams and interviews – they are amazing! I am going to miss everyone at Caterham, especially all the smiles!"
NURSING DUO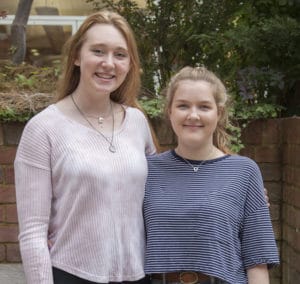 Annabel and Alex have both selected to complete a degree in Nursing, at Nottingham University and Birmingham respectively.
Annabel, who completed A Levels in Business, Drama and Psychology, says: "I was in hospital when I was very young and so I always wanted to put something back." Alex, who studied Philosophy & Theology, English Literature and Psychology at A Level, is now looking to enter her chosen profession with the same verve and enthusiasm with which she approached school life at Caterham.
FINANCIAL WIZARD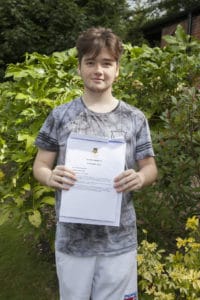 Jimmy scored fabulous grades in his A Levels – Economics, Maths, Further Maths and Physics – and he now heads off to Cambridge University (Sidney Sussex) to read Economics.  He is looking for a career in Banking or Finance. "I have loved the boarding community at Caterham," says Jimmy. "They have been my family here at Caterham."

AN HISTORIC ACHIEVEMENT!
Georgia is one of Caterham's lacrosse stars and is about to complete trials for the Under-23 England squad.  She is now off to Exeter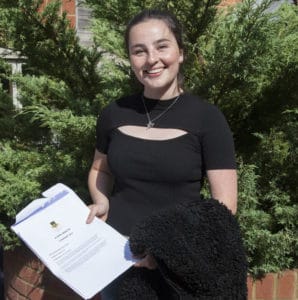 University to read History, having achieved an impressive set of grades in English Literature, History and Politics.  She has been at Caterham School for a full 15 years, all the way through from our Pre-Prep – "I've had the best time!" she says.
CHEMICAL REACTION!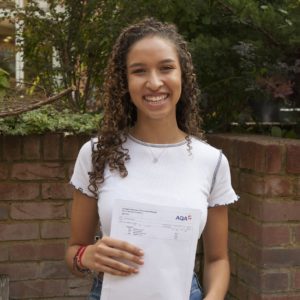 Emily has reacted with glee to the terrific news that she has won a place to read Chemistry at Oxford University (Somerville College). She says: "The Science Department here at Caterham is amazing. I had considered studying medicine, but chemistry has been so well taught here that I ended up loving it and wanting to study it further." Emily has an entrepreneurial streak and is interested in building from her degree into a career within pharmaceuticals, perhaps setting up her own business.  Emily achieved a fantastic set of results with 4A*s in Chemistry, Mathematics, Biology and Spanish.