A Level Success Stories 2021
CLICK HERE FOR OUR 2021 UNI DESTINATIONS MAP
Please read our Headmaster's comments about this year's A Level results here.  As ever, there are a huge number of individual success stories amongst our 2021 Leavers – just some of them are highlighted here:
BRILLIANT SHREYA'S OFF TO CAMBRIDGE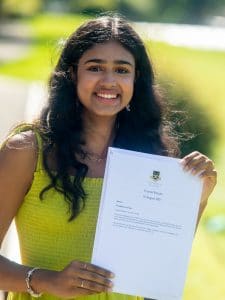 Shreya has always been an academic all-rounder but credits her English teacher, Ms Wildsmith, with encouraging her to read the subject at university. Now, the happy end to the tale is that Shreya will complete her degree at Magdalene College, Cambridge – which is where Ms Wildsmith studied, too! "The English Department at Caterham has been so wonderful," says Shreya. "I have loved Literary Society and co-editing the Arts & Humanities Magazine." But Shreya, who received A* grades in all three of her A Levels – English, French and Latin – says that all her teachers have been amazing. She adds: "Two pieces of advice I would pass on to future students are to be organised so you keep on top of your work, and to ask for help if you need it!"
MOVING UP INTO MEDICINE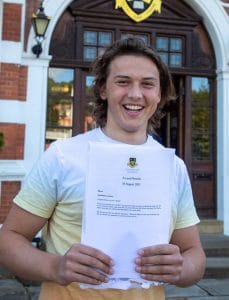 Rob is set to train as a doctor by winning a place to study Medicine at Anglia Ruskin University. He has been a keen rugby player throughout his time at Caterham, rising to be hooker in the School's 1st XV. Rob joined Caterham as a boarder in Year 9 and says the terrific staff and his close friends within the boarding community have provided a "fabulous support network." Rob continues: "I have also felt so well supported by the Science Department. The School's Wright Society (for aspiring medics) has been so helpful and I have benefited from attending the wide ranging seminars put on by the Moncrieff-Jones (Science) Society."
HITTING THE RIGHT NOTE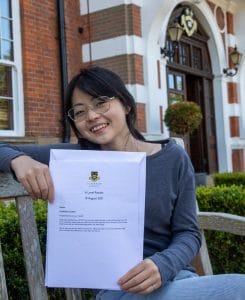 Aldi joined Caterham as a boarder in Year 9 and describes her five years at the School as "a wonderful mix of experiences." A talented soprano, Aldi will be completing a 4-year BA (Hons) degree in Music at The Guildhall in London; however, she is considering following this with a post-grad degree in English and Philosophy. "Thank you so much to everyone at Caterham," says Aldi. "The Music Department has been so supportive, including my singing teacher, Miss Duguid. My tutor and English teacher, Ms Wildsmith, has been amazing, and of course I have to mention my brilliant housemistress, Mrs Quinton."  
CASPAR'S ON THE RIGHT TACK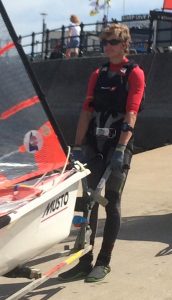 Many congratulations to Caspar who is off to study a BEng degree in Marine Technology at the University of Plymouth having achieved a wonderful clutch of grades in Maths (A*), Further Maths (A), Chemistry (A*) and Physics (A*). Caspar is an accomplished sailor; he has been teaching watersports locally over the summer and sails a 29er two-person high performance dinghy. "I have always wanted to do something with boats," says Caspar, who was impressed by the course and staff at Plymouth. "Thank you to all my teachers at Caterham, they have all made the learning process so engaging."
FULL HOUSE FOR AVA AND BLANCHE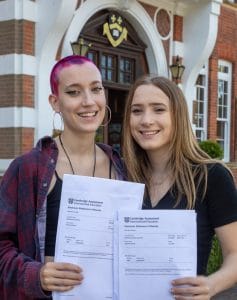 Twin sisters Ava and Blanche, both of whom joined Caterham's Sixth Form from a grammar school, have stormed their A Levels, each securing a hat-trick of A* grades across all their subjects. Blanche, who has been an active supporter of Caterham's Charity Committee and Amnesty International group, plans to study Psychological & Behavioural Science at the London School of Economics. "Dr Avery has been an inspirational teacher of psychology and a tremendous support to me," says Blanche, who has also won a 12-month paid internship with IBM. Meanwhile, Ava, who achieved a top grade for a piece of coursework about gaming as part of her Computer Science A Level, plans to defer her future studies by one year before deciding on her next steps. Hats off to Ava who shaved her head to raise funds for cancer charity Macmillan earlier this month!
SKY'S THE LIMIT FOR NATALIA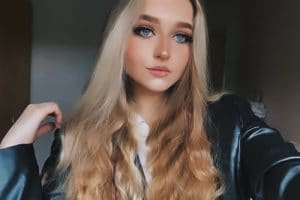 Academic high-flyer Natalia is set for a career in investment banking having secured a place at Munich Business School to study Finance. "I would like to thank my tutor, Mr Crombie, who supported me through my A Levels and who was always there for me from the moment I arrived at Caterham. And I would like to give a huge thank you to all my teachers who saw my potential, never doubted me and pushed me higher." Natalia counts the school's Celebration Evening at the end of Upper Sixth as one of her most precious memories of Caterham: "It was spent with all kinds of wonderful Caterhamians: staff, teachers and friends!" Natalia achieved an A* in Economics, an A* in German and A in Maths.