GCSE Success Stories 2018
SWIMMING TO SUCCESS
Four of Caterham's GCSE stars are also star swimmers.  Pictured here are Leah, Siobhan and Isabella – all of whom are excelling as competitive swimmers.  Leah, who has been at Caterham School since Reception, specialises in sprinting (front crawl), and she attributes her success at GCSE (5A*s, 4'9's, 2 '8's) to maintaining a healthy balance between her work and sport: "My training in the pool helps to break up my study routine and that means I focus better." Siobhan  achieved 5A*s, 3As and 4 '9's – a wonderful achievement. Isabella, whose pool training this summer has been hampered by a broken finger, has nonetheless recently been scouted by an American Team who she hopes may sponsor her at a US University.  Both girls paid tribute to their Head of Year, Miss Hart: "She's been amazingly supportive!" Not pictured is Amy Davies, who is also one of Caterham's top swimmers – and who also achieved outstanding GCSE grades.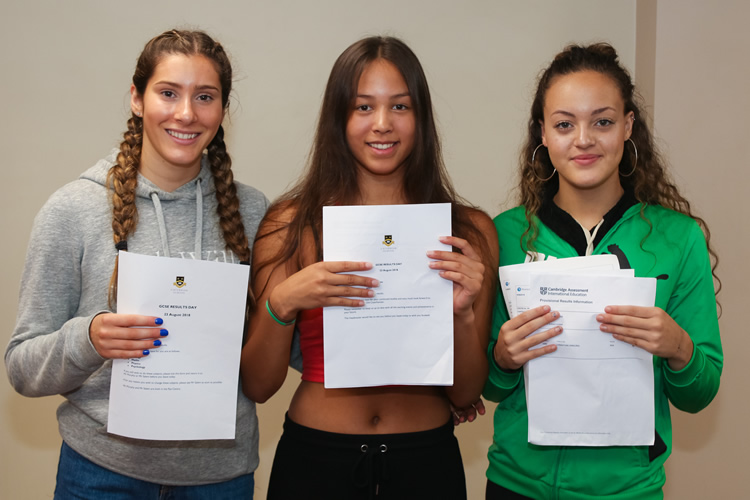 RUNNING HIGH
Ben is an outstanding cross country runner and athlete – and he has now proved his academic credentials, too, by achieving exceptional GCSE grades: an incredible, clean sweep of A*s and 9's (he also achieved an A in Additional Maths).  He now plans to study A Levels in Further Maths, Maths, Biology, Physics and Economics. "I am considering engineering as a career," says Ben.  He is particularly grateful to the Head of Art, Mrs Veldtman: "Art GCSE is demanding but Mrs Veldtman made it enjoyable for me."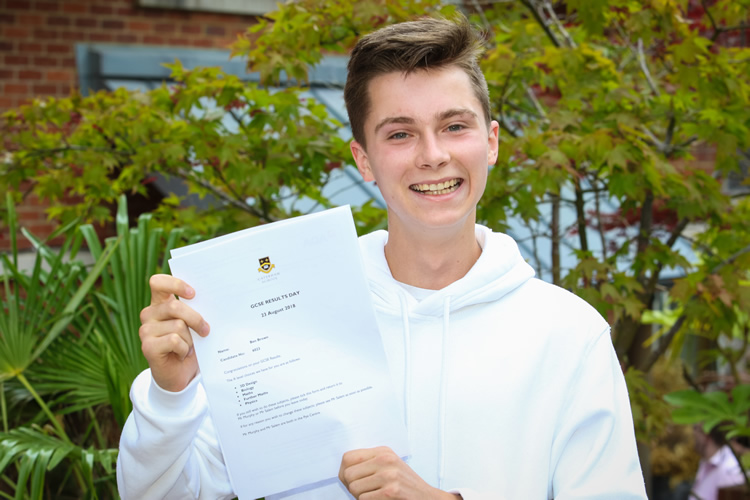 SISTERS' SUCCESS
Maddie and Rhianna consider themselves to have very different academic profiles, but they have both achieved outstanding GCSE grades.  Maddie achieved 5A*s, 1A, 3 '9's and 2 '8's, while Rhianna gained 5A*s, 1A and 6 '9's. Rhianna – who will study A Levels in English, History, Latin and Politics – claims to have the better memory; Maddie, meantime, says she is stronger with logic and reason (she will study A Levels in Economics, Maths, Politics and Psychology).  Asked what their top tips would be for future GCSE pupils, both girls said: "Do lots of practice papers, listen carefully to your teachers – and remember to work effectively rather than simply working for hours and hours!"  Both Maddie and Rhianna are black belts in karate – truly a pair to be reckoned with!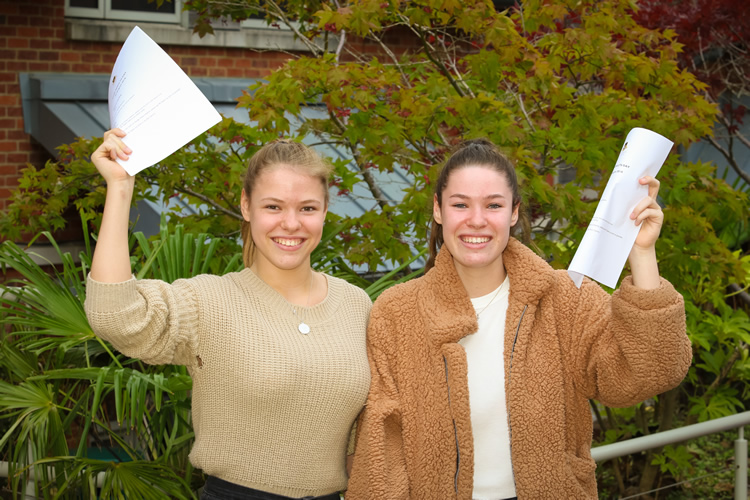 MAX-IMUM EFFORT!
Max is delighted to have achieved strong grades in his GCSEs alongside his very promising development as a rugby player.  He has already played for Caterham's 1st XV team during his time in the Fifth Year (Year 11); he is also a member of the Surrey U16 Elite Squad, having already played a season with them, and he will soon complete a trial for the U17 & U18 squad.  Max says: "I tried to use my sports mentality to help focus with my academic work – like in the gym, I have to commit and put in maximum effort."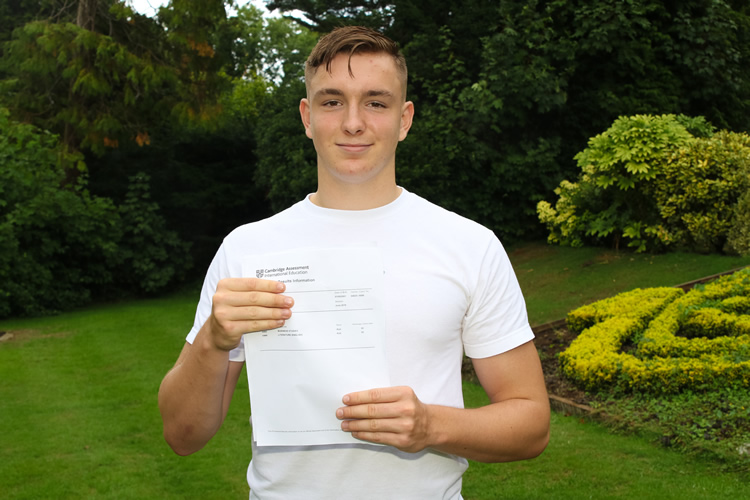 RALPH'S HIT THE TOP
Ralph achieved terrific grades at GCSE – 7A*s, 2As, 3 '9's and 2 '8's – as well as an A in Additional Maths.  He's now set to hit Caterham's Sixth Form running…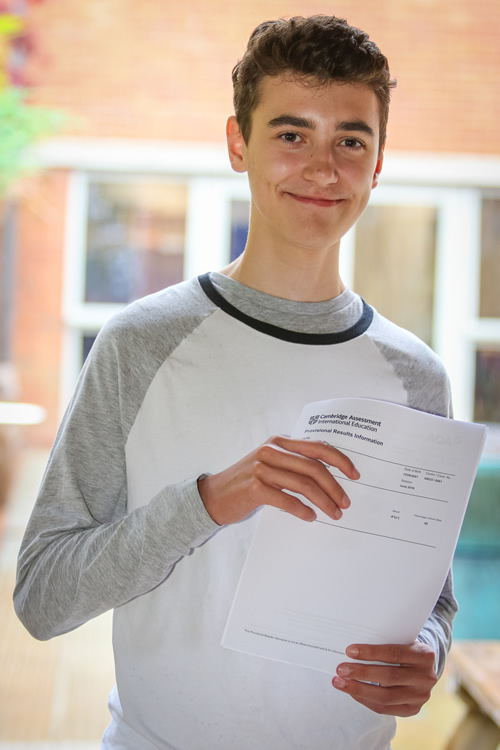 NETBALL SUPERSTAR SHOOTS FOR THE STARS
Katie has achieved great things as a netball player: she is part of the U19 Surrey Storm Development Squad and will soon complete a trial for their Academy Team.  Her GCSE grades are fantastic – 6A*s, 4 '9's and 2 '8's (as well as an A in Additional Maths) – and she will now go on to study Biology, Chemistry, Maths and Spanish. "I am so grateful to Mrs Pearce, my maths teacher – she's been so helpful.  I've also been fortunate to have Mr Webster as a very encouraging English teacher – as well as his wife (Mrs Webster!) as a brilliant tutor. Thank you to everyone!"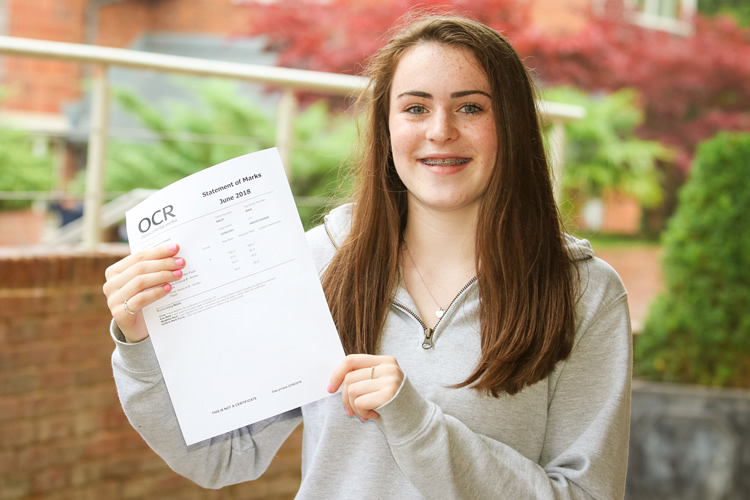 THAT'S MAGIC!
Many congratulations to Michael who has achieved stunning GCSE grades – 6A*s, 1A, 2 '9's, 1 '8' and 2 '7's, as well as an A in Additional Maths.  In addition to this, Michael has trained as an instructor on the School's High-Ropes course (consisting of a 'Go-Ape' style course of zip wires and tree-runs); he also enjoys bouldering and running – and he is also an accomplished magician.  The secret to his success? "Try to keep on top of your work," he says. "Don't leave it too late and try to do a manageable amount of work each day."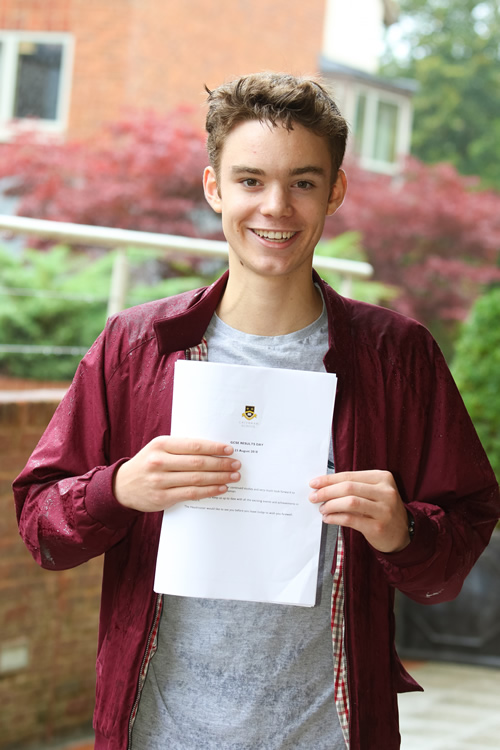 LACROSSE CHAMPION SEALS THE DEAL
"I am really, really happy!"  That's how Lottie summed up her feelings having bagged a hugely impressive 4A*s, 1A and 6 '9's in her GCSEs.  Lottie has been playing lacrosse in the School's First Team and is excited to be part of Scotland's National U19 team, too.  "I'm hoping to qualify for the World Cup in Canada," she says. In the meantime, she is off to celebrate at Reading Festival!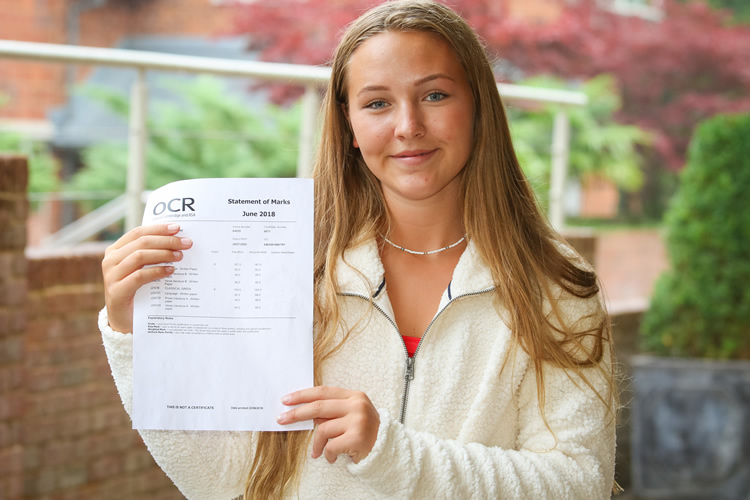 JAW-DROPPING GEORGE
George is planning to study A Levels in Maths, English, German and Politics after achieving fabulous grades at GCSE: 7A*s, 2As, 5 '9's.  George, who is a very keen cricketer, and a boarder here at Caterham, is modest about his success: "I guess it helps to keep a clear mind, to keep things in perspective, and not to let work dominate too much – my cricket's been helpful in that way."
BRAVO HERMIONE!
Congratulations to Hermione, who has achieved 6A*s, 1A, 5 '9's and 1 '8' as well as an A in Additional Maths– a superb achievement.  Hermione, who is a boarder at Caterham, was also delighted recently when she won the prestigious Geoffrey Pidgeon Prize for Literature – named after an alumni of the School to promote creative and intellectual writing amongst our pupils.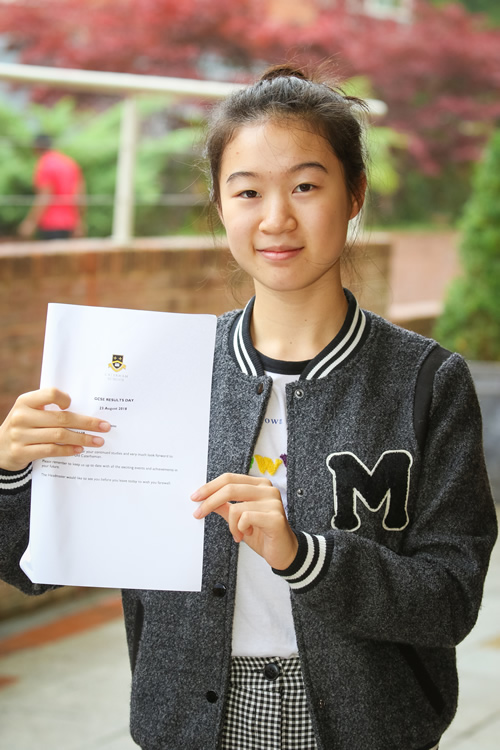 Bravo, Yuka!
Many congratulations to Yuka, who has achieved wonderful grades in her 14 GCSEs.  She achieved 7 A*s, 4 '9's and 2 '8's – as well as an A grade in Human Bilogy.  "I am so grateful to my teachers," says Yuka, who is a boarder at Caterham.  "They are passionate and knowledgeable – and they are willing to give up extra time for pupils who need additional help.  They also make the syllabus relevant to everyday life – they don't limit their teaching to what is on the syllabus."