GCSE Success Stories 2019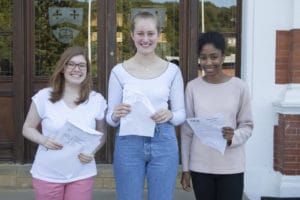 TRIPLE TRIUMPH
Many congratulations to Charlotte, Maisie and Rachelle, all of whom have achieved a phenomenal 22 grade '9's between them. This year, twenty of our Fifth Year pupils achieved 10 GCSEs graded 9-8. Fantastic! Maisie, who is a rising star in the English Department, said: "I am so grateful to my English teacher, Dr Gray, who has been so encouraging."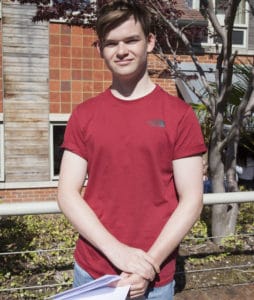 TOP NUMBERS FOR ALEX
Alex achieved a fantastic sweep of 10 grade '9s' (plus an A* in Further Maths). Alex is one of four pupils in his year who have achieved 10 Grade '9's – an astonishing achievement.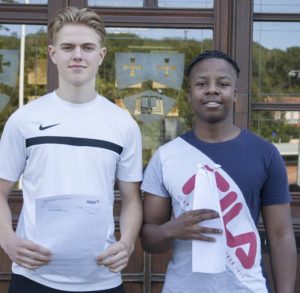 DOUBLE CELEBRATION IN THE BOARDING HOUSE
Christian and Phoenix both love participating in School sport and being part of our boarding community. They have both done brilliantly: Christian achieved a wonderful 9 '9's, an A* (with distinction) in Further Maths and a '7', while Phoenix achieved 4 '9's, 4 '8's and 2 '7's.

SUZANNAH'S MADE HER MARK!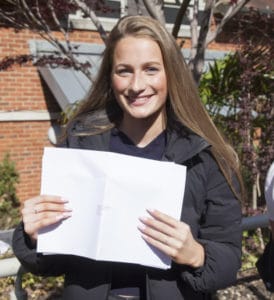 Suzannah is the youngest of eight siblings who have been educated at Caterham. Now she has earned a clutch of super GCSE grades: 1 '9', 4 '8's, 2 '7's and 2 '6's. Well done, Suzannah!
LEELA'S NAILED IT!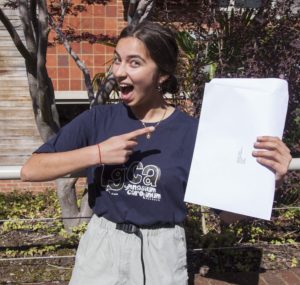 Leela has many extra-curricular commitments at School, including drama, and now she has scored a terrific sweep of GCSE grades – 5 '9's, 4 '8's and 1 '7'. Bravo, Leela!
REASONS TO BE CHEERFUL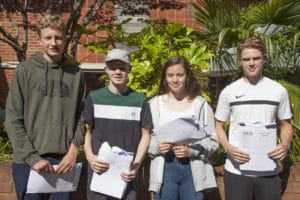 Louie, Ben, Madeleine and Christian all have good reason to be smiling! They all achieved terrific GCSE grades – together, they collected a remarkable 30 grade '9's.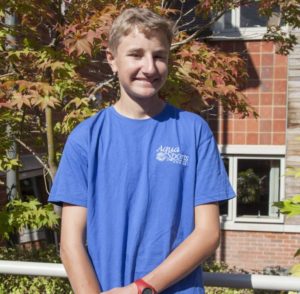 CONGRATULATIONS, CASPAR!
Caspar has been helping out in his sailing club over the summer, but today's news will certainly fill his sails with metaphorical wind! He has achieved 9 grade '9's and 1 grade '8', along with an A in Astronomy and an A* in Further Maths. Wow – full steam ahead!
A STRING OF NINES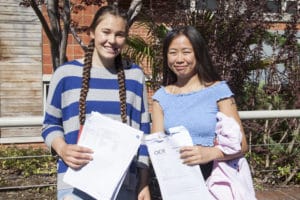 Esther and Olivia achieved 9 and 10 grade '9's respectively – an amazing achievement. Esther also achieved an A grade in Astronomy and an A* in Further Maths. No wonder the girls are smiling so broadly!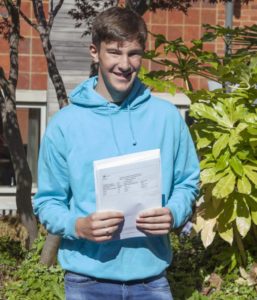 MAXIMUM EFFORT
Max has a busy schedule out of the classroom, with a wide range of interests from participating in the School's Combined Cadet Force (CCF) and playing sport.  He is now looking forward to entering Caterham's Sixth Form having achieved a wonderful 5 '9's, 3 '8's, a '7' and a '6' – as well as a B in Astonomy and an A in Further Maths.