GCSE Success Stories 2020
A record breaking year at Caterham School has seen our pupils achieving wonderful grades at GCSE: you can read more here. There are many individual success stories this year – just some of them are highlighted below:
NICOLA STORMS IT!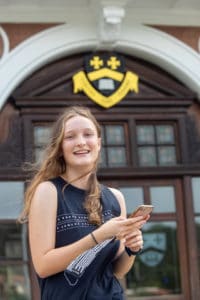 Nicola achieved a fantastic sweep of 10 grade '9s' (plus an '8' in Further Maths). She excels in science and will study biology and chemistry (as well as maths and psychology) at A Level. Nicola enjoys her sport, too: she plays lacrosse and netball at school, and she is a county level swimmer.
AIMING HIGH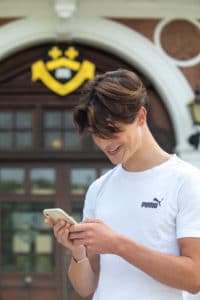 Skyler is interested in architecture and the design of habitable settlements on Mars. He is also a keen swimmer and rugby player. Now he has 10 terrific GCSEs under his belt and is looking forward to studying maths, physics, 3D Design and psychology at A Level.
RACHEL'S ROARING AHEAD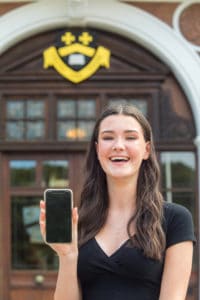 Rachel achieved a stunning 9 grade '9's and one grade '8' in her GCSEs. She joined Caterham in Year 7 from Micklefield Prep in Reigate. Rachel, who enjoys all sorts of dance, is thinking of becoming a teacher. In the meantime, she is looking forward to her A Level subjects: English, geography, economics and psychology.
ALL-ROUNDER MARIELLA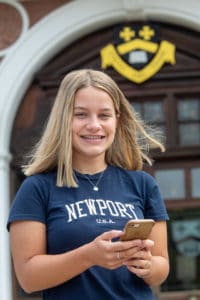 Many congratulations to Mariella who has achieved a terrific set of 11 GCSE grades. Mariella, who joined Caterham in Year 9 from The Hawthorns School in Bletchingley, is an all-rounder with a keen interest in dance. She plans to study biology, English, maths and psychology at A Level.
SUPERB SHARON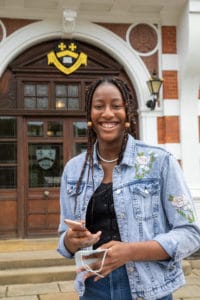 Sharon is keen to train as a doctor, possibly specialising in paediatrics. She's on track, having achieved a brilliant set of 11 GCSEs. Sharon, who is a weekly boarder, said: "Thank you to my teachers, especially Dr Dimakos, who was such an enthusiastic maths teacher!"
WIND IN HIS SAILS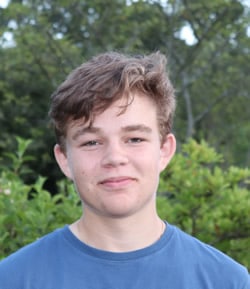 Accomplished sailor Theo has achieved a wonderful set of GCSE grades – 6 grade '9's and 5 grade '8's. Theo, who joined Caterham in Year 9 from The Hawthorns School in Bletchingley, is looking forward to joining our Sixth Form where he will study French, biology, maths and physics.
TOP NUMBERS FOR AMELIE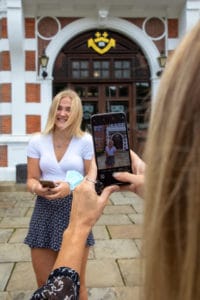 Amelie joined Caterham in Year 9 from St Michael's Prep School in Otford. A keen netballer, she has now achieved a monumental sweep of 11 grade '9s' (including a '9' in Further Maths). One of her A Level subjects will be English Literature: she said "Thank you so much to Mr Crombie, my English teacher, for all his support."
DIZZYING HEIGHTS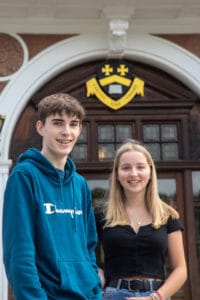 Cameron and Izzy both joined the Nursery at Caterham Pre-Prep way back in 2007. Now they have both accomplished a phenomenal 23 grade '9's between them – and they both completed Astronomy GCSE. Izzy says "I am so looking forward to making more friends in the Sixth Form and specialising in the subjects I like best." Cameron, who is a keen footballer with Caterham Pumas, is considering a career in mechanical engineering.
BRILLIANT POPPY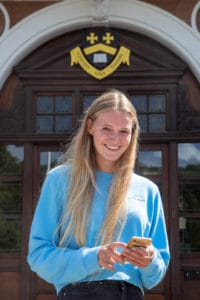 Poppy achieved a wonderful crop of GCSEs and is set to study Art, Photography and PE at A Level. She is accomplished in a number of sports, including netball and lacrosse. Poppy is one of four siblings to be educated at Caterham: her youngest brother will be joining the school this September.
REASONS TO BE CHEERFUL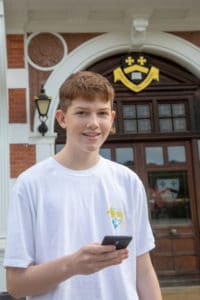 Will is the youngest of three brothers to attend Caterham School. He has achieved a remarkable set of 12 '9's in his GCSEs. "I would love to continue working in the field of physics" says Will, who will study that subject along with chemistry, biology, maths, further maths at A Level.
STELLAR PERFORMANCE FROM ALEX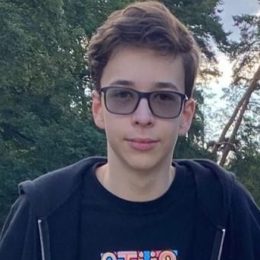 Alex is a lynch pin of our boarding community and has now achieved a remarkable clean sweep of 11 grade '9's at GCSE. He will go on to study computer studies, economics, physics, maths and further maths at A Level.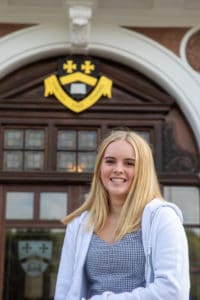 KATIE'S A HIGH FLYER
Katie joined us in Year 10 from a nearby school. She has excelled, and now has 9 fantastic GCSE grades under her belt. She is a competitive gymnast, training 16 hours a week. "The school has been really flexible," says Katie. "They were happy for me to study 9 GCSEs instead of 10 so that I have time for my gymnastics. Special thanks to my chemistry teacher, Mr Tyldesley – he's so enthusiastic!"
IT'S A FULL HOUSE FOR MICHELLE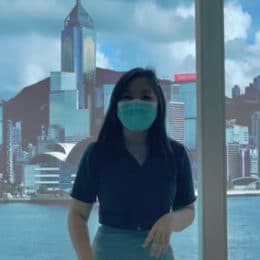 Michelle has achieved a 'full house' of 12 grade '9's in her GCSEs – an amazing achievement. She is a boarder at Caterham – her home is Hong Kong and she has been there, completing the school's online learning, since March. Michelle says: "The school has been so supportive and Mrs Quinton, my Housemistress, cheered me up when I was stressed!" Michelle would like to go on to train as a doctor.