GCSE Success Stories 2021
Please read full details of 2021 GCSE results here.  As ever, there are a huge number of individual success stories amongst our 2021 Leavers – just some of them are highlighted here:
HARRY STORMS IT!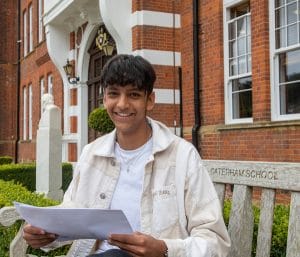 Harry achieved a fantastic sweep of 11 grade '9s'. He is an aspiring medic and will be studying Maths, Biology, Chemistry and Latin at A Level – and he is planning to study Latin, too. Harry, who joined Caterham in Year 7, enjoys hockey and tennis, and he plays the violin in the school's orchestra, too. The secret of his success? "I think I'm hard working," he says, "but I also try to set high expectations for myself."
LUCY'S AIMING HIGH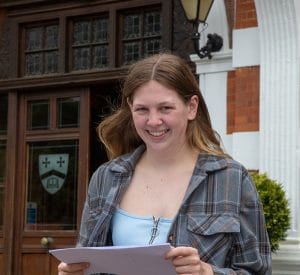 Lucy has achieved academic success alongside some tremendous sporting achievements. She has been part of the GB Water polo Squad for four years, and is excited about heading off to Croatia this summer to participate in the Europeans. She is a talented netball player and swimmer, too. "It's been so busy that sometimes I have had to revise while travelling by train to my sports training!" says Lucy.
IT ALL ADDS UP FOR ALEX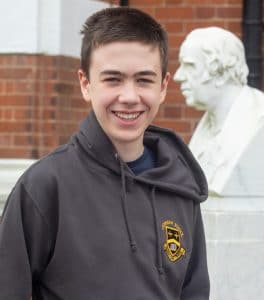 Alex plans to read either Maths or Computer Science after finishing A Levels in those two subjects and Physics, Chemistry and Further Maths. He achieved a remarkable 11 grade '9s' at GCSE. Alex is a gifted mathematician who has had terrific success in national UKMT Maths Challenges. "The whole Maths Department has kept me stretched and inspired," says Alex. "It's good to explore new areas beyond the syllabus. I enjoy working on algorithms and using them to solve complex mathematical problems."
ALL ROUND SUCCESS FOR SONYA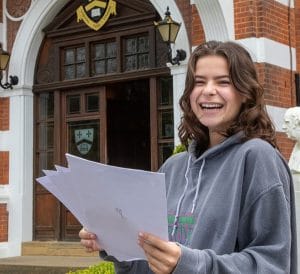 Sonya lived in Russia until she was eight and has now gone on to achieve wonderful grades (in addition to a GCSE in Russian!): 9 grade '9's and 2 grade '8s'. Sonya, who loves tennis and excels at Maths, is an academic all-rounder who plans to study Economics, Philosophy and English at A Level. "I am so grateful to my teachers, and especially to Mr Crombie (English) and Mrs Griffiths (Maths) for being so supportive. Sonya is now having a busy summer working as a waitress and a lifeguard.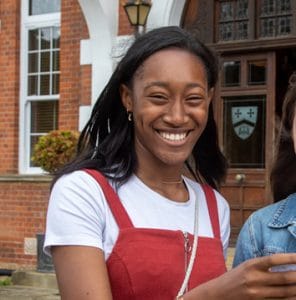 RIANNA'S STAR IS RISING
Rianna is a high achiever who has her sights on a career of Athletics as a heptathlete and studying Medicine at Duke University in the USA. Rianna is talented netballer and lacrosse player and is also training as a heptathlete. She plans to study Chemistry, Biology, Philosophy & Theology and English at A Level. In the meantime, she is working as a volunteer at East Surrey Hospital. Rianna, who achieved '9s' and '8s' in all her GCSEs, says: "Thank you to all my teachers, but especially Mrs Webster (P&T), Mr Salem (History) and Mr Crombie (English)." Congratulations to Rianna on achieving 6 grade 9s and 4 grade 8s in her GCSEs."
MINA'S NAILED IT!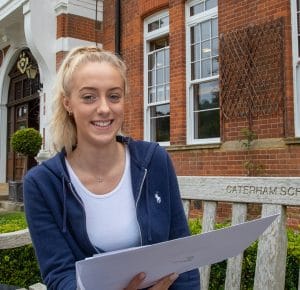 Mina has found success as a lacrosse player – she is part of Scotland's U19 squad – and she has now nailed her GCSEs, too. She achieved a wonderful 7 grade '9s' and 2 grade '8s'. Her plan is to study Science or Medicine after completing A Levels in Biology, Chemistry, Maths and English. And she even found time to climb Mount Snowdon over the summer! Mina adds: "A special thank you to Ms Wildsmith who has been such a helpful and kind teacher of English."
KRISHAN'S A TRUE POLYMATH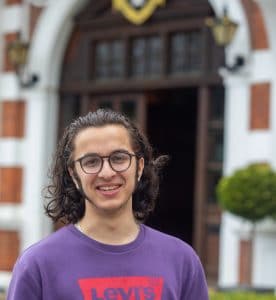 Krishan is delighted with his GCSE grades and is now looking forward to studying Computer Science, Biology, Chemistry and Maths at A Level. "I am fascinated by technology," says Krishan. "It touches on so many aspects of modern life and it's essential to so many things we do." He has been learning a new programming language over the summer; but he has also found time to pursue his love of rock climbing. Krishan, who is considering a career in medicine, is also a keen scuba diver and sailor.
IRIS IS RIDING HIGH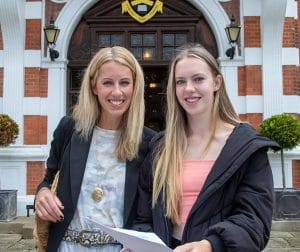 Iris is an accomplished horse rider and is keen to pursue a career as an equine vet. She's on track now, having bagged an impressive 11 GCSEs with top grades (9 '9s' and 2 '8s'). She has been busy this summer, teaching 4-10 year olds how to ride at local stables. She will now study A Levels in Biology, Chemistry, Maths and Psychology. Recently, she gave a brilliant presentation as a finalist in the School's prestigious Independent Research Project competition; her title was "Can Humans be Scared to Death?"