Sixth Form Open Evening Subject Info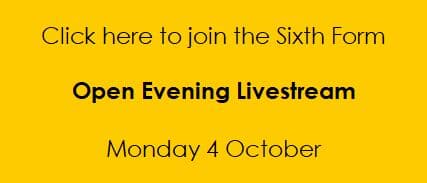 To view A Level information for each subject click on the subject name below. This will open an information page with introduction video for the subject you have selected.
Q&A sessions for each subject  will run in the times indicated below – simply click on your preferred time option to open the Microsoft Teams Link. 
18:30

18:40

18:50

19:00

19:10

19:20

19:30

19:40

19:50

20:00

20:10

20:20

20:30

Creative

Livestream Presentation
from
Headmaster
and
Director of
Sixth Form

 

 

 

 

 

 

Languages

Humanities

Social sciences

Sciences

Applied Sciences

Physical

Additional

Director of Sixth Form

Boarding

Deputy Head: Admissions

Wellbeing and Pastoral Care
Back to 16+ Admissions