An Evening with Patron, Dr Wright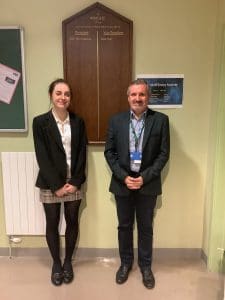 This year 'The Wright Society', Caterham's prestigious medics society, has been delighted to welcome in an impressive and enthusiastic group of Lower Sixth medics. Last Thursday brought about the first of many exciting events lined up for them this year when the group warmly welcomed Dr Richard Wright, the society's patron, for an inspiring talk about Careers in Healthcare. Dr Wright, in addition to being a local GP and the school doctor, is the clinical director for North Tandridge primary care network, so there is no one better to give the Lower Sixth pupils advice, and they were incredibly lucky that Dr Wright took time out of his busy schedule to talk to them. 
The seminar consisted of lots of helpful information, including pathways to a career as a physician, what it's like being a junior doctor, and details of different specialties and careers within medicine, all supplemented by some great anecdotes. One of the main aims of the evening was to show the medics the variety of career options one has with a medical degree, as well as some information about other careers within the healthcare sector. Dr Wright also helped to provide the aspiring medics with a realistic view of medicine, which is a vital thing to have before entering this career path, and something candidates must evidence when interviewing for med school. 
A massive thank you to Dr Wright for kindly taking time to talk to the society; it was an excellent talk, and I'm sure every single one of them found it extremely useful. 
Rosie Home, President of the Wright Society 
Back to all news