Sixth Form Play Launches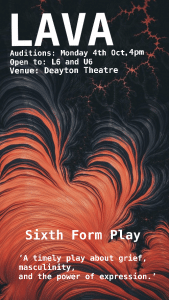 This year the Drama Department is launching the Sixth Form Play, an entirely student run project which will see Lower and Upper Sixth Form pupils tread the boards in a play chosen, cast and directed by their peers. Our first directors to make their mark are Paige and Holly in Lower Sixth Form who have chosen Lava by James Fritz as this year's offering. Lava is a timely play about grief, masculinity and the power of expression. A small asteroid has hit the capital city. Thousands have been displaced. And in a town far away, a young man called Vin has lost the ability to speak. The only person who seems to notice is Rach, who resolves to find out what's troubling him and help him find his voice again.
Auditions for this fascinating dystopian-esque tale will take place on Monday 4 October at 4.00pm in the Deayton Theatre, and all Sixth Formers are invited to audition. An audition pack was sent out this week, and those who wish to audition should email Paige and Holly to register their intention to do so.
Back to all news