The Performing Arts Centre
The Performing Arts Centre boasts two indoor theatres with flexible spaces, an outdoor theatre, a dance studio and a music department consisting of several individual music rooms. It has a central foyer area with a licenced bar on the first floor where refreshments can be served during breaks or intervals. The Centre can be hired exclusively as a whole or any of the rooms can be hired out independently. See further information on each venue below:
The Humphreys Theatre seats 338 and is on the first and second floor of the building. It has retractable seating allowing the room to be converted into a hall or drama/dance space on the first floor only. 
The Deayton is a theatre and drama space on the first floor of the building which seats up to 63 on the tiered seating but further free seating can be added to allow up to 103. The seating is retractable allowing the room to be converted into a hall or drama/dance space.  The Deayton also has a dividing screen to create two rooms should you require.
The Orchard Theatre is an outdoor space accessed from the central foyer on the first floor and has a wooden decked performing area and a grass bank with fitted benches for naturally tiered seating for up to 72. 
The Dance Studio is situated on the ground floor and has air-conditioning and built in Bluetooth ceiling speakers.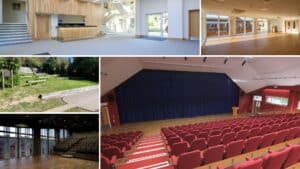 To enquire about hiring the Performing Arts Centre or any of its rooms please email [email protected]
Back to Venue Hire