Caterham ArtsHouse presents WOMANS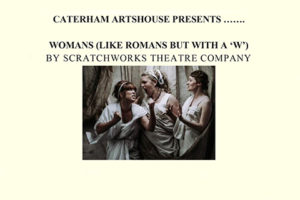 After the huge success of Great Train Robbery, Scratchworks Theatre Company returns to Caterham ArtsHouse with the second in their trilogy of comedy theatre shows about history's forgotten women.
It's 44BC, Ancient Rome. Our hero, Leta has been declared a traitor by the Roman Senate.  She is given a punishment worse than death: "Damnatio Memoriae" – to be erased from history. Whilst noble gladiators and infamous emperors are becoming legends around her, Leta's name will be scratched out and forgotten forever. But with the help of some mischievous muses, she decides to rebel against the Republic. Join Leta's determined journey to reclaim her place in the history books. From crashing the Colosseum to freeing the slaves, she will go to the ends of the empire to make her mark. A feast for the eyes and the ears with physical comedy, clowning and original music, WOMANS is a riotous tale of the first female resistance.
Date: Thursday 21 March
Time: 7.30pm
Venue: Deayton Theatre
Tickets: £10 (Please book through WisePay)
Back to all Events