Horrible Histories LIVE ON STAGE! MORE Best of Barmy Britain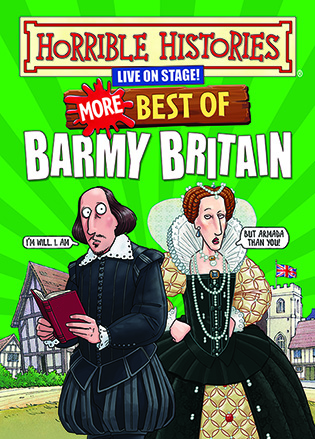 We are proud to be staging this hugely popular West End hit at Caterham School. Don't miss this opportunity to see this fabulous and famous show here on our very own stage.
We all want to meet people from our history. The trouble is everyone is dead!
So it's time to prepare yourselves for a special production of Horrible Histories featuring MORE of your favourite characters from our barmy past! This brand new compilation show has never toured before and includes a special new scene featuring wordy Will Shakespeare!
Find out why the Romans were revolting! Could you survive the vicious Vikings? Can evil Elizabeth entertain England? Would you party with the Puritans? Clap along with crazy King Charles! Vomit with the vile Victorians and prepare to do battle in the frightful First World War!
Friday 27 April, 7.00pm – Humphreys Theatre, Centre for Performing Arts, Caterham School
Tickets – £10 Adult / £8 Child (18 and under)
Update: 16h33 27/04/18 – We still have availability for tickets on the door. Please email [email protected] or call 01883 343028 if you would like to secure a ticket.
This event is open to the local community. 
Back to all Events