First Years Debut at Twilight Concert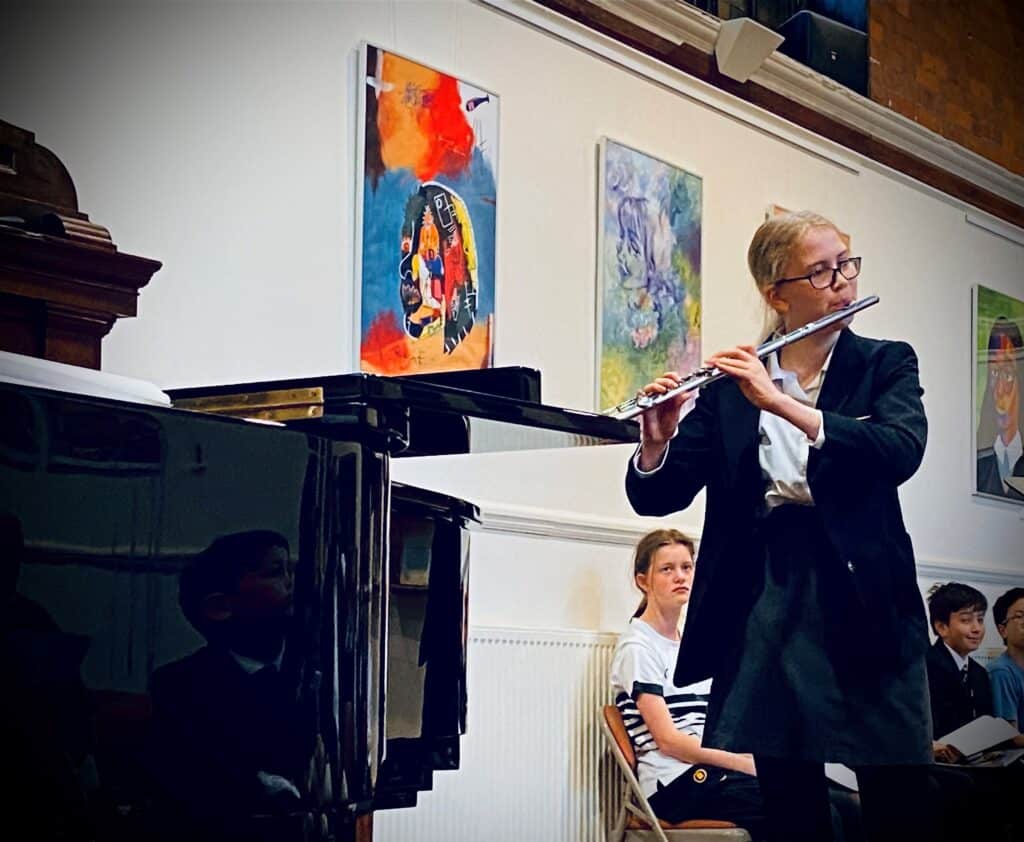 The Twilight Concert featured headline performances by a number of First Year pupils (who have only been at the school for a month) who showed great confidence and style.
Elliot W (First Year) commenced the concert with a fine rendition of Bricusse's "Pure Imagination" (from Willy Wonka and the Chocolate Factory). Annabel S (First Year) followed with a wonderful vocal performance of "Dalmatian Cradle Song." Isaac K (First Year) displayed refined flute skills, playing Peterso-Berger's "Song of Summer." Tom B then delivered a delightful vocal performance of the iconic song "Electricity" (from Billy Elliot). This was followed by Stella V L (First Year) who presented a lively and spirited vocal performance of Bernstein's "I Feel Pretty" (from West Side Story).
Sophia S (Second Year) graced the stage with a delicate and elegant violin performance of Elgar's "Chanson de Matin." Eugenie C (Second Year) delivered a stunning performance of Gliere's "Prelude" with outstanding precision and voicing throughout.
Lucy B (Fifth Year) captivated the audience with her performance of Berkeley's "Sonatina" on the flute. Her warm tone and outstanding technique brought out the harmonic colours in the music. Maya P (Fifth Year) gave a polished and confident performance of Bullard's "Prelude," managing to emphasize the rich and vibrant harmonies with excellent clarity in pedalling throughout.
Ethan G (Fifth Year) showcased his talent with Bach's iconic "Sonata in G minor" (first movement). His intonation and precise, articulate phrasing were excellent and complemented the music. Spencer T (Fifth Year) then took the stage with a sublime performance of Beethoven's beautiful second movement of the "Pathétique" sonata, featuring delicate phrasing and detailed articulation, as well as subtle voicing and clarity in pedalling. Following this, Lynus L (Fifth Year) gave a superb performance of Bach's "Sonata in G minor" (third movement) — a modern interpretation of a beautiful piece of Baroque repertoire.
Leyani G (Second Year) performed Norton's jazz composition, "New Kid," demonstrating calm yet precise playing with remarkable clarity in intricate embellishments and rich jazz harmonies. George M (Fifth Year) delivered a gallant vocal performance of Grieg's "Jeg elsker Dig," full of energy and panache. The concert concluded with George P's (Lower Sixth Form) virtuosic improvised number, showcasing a range of styles from jazz to late-Romantic operatic masterpieces — a wonderful impromptu transcription!
All performers are to be congratulated for their fantastic performances. Bravissimo!
Back to all news