Records Tumble at the Surrey Schools Track and Field Championship
Hot off the back of Freddie Abel's invite into the Harlequins U17 EPDG Rugby Programme, he competed for South Surrey at the Surrey Schools Track and Field Championship held at the Weir Archer Leisure Centre.
Freddie (5th Year) threw an incredible 40.78m to clinch the title and beat the current school record for Inter Boys' Discus previously held by Old Cat Drew King.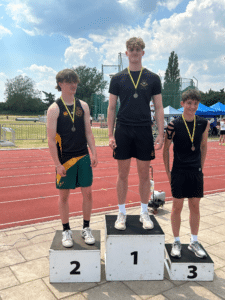 Estee Norman (4th Year) continued her rich vein of form earning a silver medal at the Surrey Schools Track and Field Championship in the 300m Hurdles. Her time has earned her a place at the English Schools' Final to be held in Birmingham of July 1st . This is the highest level of competition for a school athlete and even more impressive given the fact that she is at the younger end for this age category.
On her way to sealing this coveted invite, Estee further improved on her haul of School records adding 300m Hurdles in a time of 45.32s to the list.
Arguably, one of the most demanding athletics disciplines Estee is currently training hard for inclusion in the National Heptathlon programme. She will be back in action again this weekend looking to increase her total score and chase further personal records.
Anthony Sessi- Knott (Lower 6th) Finished with a silver medal in the showpiece event the Senior Boys' 100m Final. Antony will be showcasing this speed in the Epsom Athletics meet this Saturday.
Leane Beukes finishes 3rd in the Inter Girls' shot Putt and impressive feat in a busy exam period for the 5th form pupil.
Edwin Kamara and Jiayou Li (both 3rd Year) demonstrated their commitment to the sports programme here at Caterham by playing their first innings of cricket for school and then travelling to compete in the Surrey Championships. Edwin finished 4th in the 300m with a time of 38.6s and Jiayou finished 5th in the Shot Putt.
Tunrore Adeniji (5th Form) Recorded another PB this season leaping 1.70m in the High Jump to come 4th in Surrey.
Arthur Peachey (3rd Year) ran a 24.60s PB in the Junior Boys 200m to finish 5th in the county.
Jess Cooper (3rd Year) threw a PB of 25.42 to come 5th in the Junior Girls Javelin.
Cameron Whitfield (3rd Year) finished 6th in the Junior Boys' Javelin, an impressive feat from the highly regarded swimmer, who had only learned how to throw the javelin for the first time 6 weeks ago!
It's brilliant to see so many high finishes in the most competitive county in the country for Athletics.
Another school record was broken in the U12 Girls' Shot Putt at the ESAA Track and Field Cup with Izabella Nsofor recording a distance of 7.79m.
Back to all news