ArtsHouse
An Arts Festival in Residence
ArtsHouse brings some of the UK's best professional theatre productions to the heart of Caterham with a fresh, innovative programme featuring awarding-winning productions from the Edinburgh Festival, the Brighton Fringe and festivals across the U.K. 
ArtsHouse performances and workshops are open to everybody, providing a new hub for theatre audiences in Surrey and Kent who are keen to see cutting edge, professional work in the local area. Caterham School's brand-new Centre for the Performing Arts offers the perfect home for ArtsHouse. We have a brand new, fully kitted 80 seat studio theatre and our 300 seat theatre space which will both host this exciting and diverse programme. An ongoing programme of performances and workshops will run throughout the year providing a variety of genres and styles. 
The Human Zoo Theatre Company
ArtsHouse is curated by The Human Zoo Theatre Company, an award-winning, internationally touring theatre company based in Surrey.
"We are thrilled to have partnered with ArtsHouse Caterham to bring fresh, exciting theatre to the local area. It is great to work with a forward-thinking, state of the art venue like ArtsHouse, and we are really looking forward to offering the local community a hub of professional theatre right on their doorstep. We very much hope that the local community will embrace the chance to see high quality, critically acclaimed touring theatre and very much look forward to welcoming you in to this new space. We are particularly thrilled to be delivering this richly diverse, accessible and impressive programme as the first season of what we hope will be many at ArtsHouse Caterham!" 
FORTHCOMING PRODUCTIONS: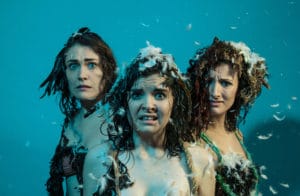 Friday 14 June 7.00pm: SIRENS – Zoo Co. presents:
***Winner of the THREE WEEKS EDITOR'S AWARD Edinburgh Fringe 2018***
'And before you can say damaged male ego, we're holed up on a four foot square rock for the rest of eternity…'
When three Greek women defy the want of Zeus and are cursed with a deadly voice, the famous myth of the Sirens is born. But when they find out that the truth about them may have been a bit more than 'tweaked', they are catapulted to Hastings beach in 2019 with one mission: rewrite history.
Using breathtaking visual storytelling, stunning projections and a lot of feathers, Zoo Co's award-winning show Sirens stands up to gender expectations and asks, when your voice is silenced, how do you stand up and shout?
Tickets: £10  |  click here to book
Group booking also available via email: [email protected]

If you would like to know more or be put on our mailing list, please do not hesitate to contact the friendly ArtsHouse team on
A huge thank you to The Human Zoo Theatre Company who curate the Caterham ArtsHouse!
news and Previous productions:
Luke Wright Poetry Performance:

We were thrilled to welcome acclaimed poet Luke Wright to Caterham to kick off our 2017/ 18 ArtsHouse programme with an energetic, cutting edge poetry performance.
Luke writes  and performs bawdy bar room ballads about small town tragedies and Westminster rogues. His fast paced, witty poems are crammed full of yummy mummies, debauched Tory grandees, maudlin commuters and leering tabloid paps. His live shows are enjoyed by thousands of people across the world every year, where he mixes the wistful with the downright comic to take audiences on an incredible emotional journey.
AUSTENTATIOUS:  The launch of the Caterham ArtsHouse,  May 2017
The much acclaimed production of 'Austentatious' launched the Caterham Artshouse. An entirely improvised comedy play in the style of Jane Austen, the production received 5 star reviews following an extensive UK tour. 
To read a review of Caterham ArtsHouse's launch production click here. 

MACBETH :  May 2017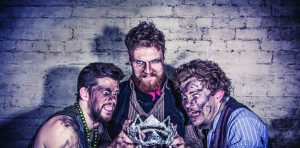 The second ArtsHouse production  brought an intelligent, exhilarating sprint through revered Shakespearean tragedy Macbeth on Thursday 4 May . Visiting company Six Foot Stories led a workshop for pupils before a stunning performance in front of a packed audience in the Deayton Theatre 
Three gnarly fortune tellers live apart from decent society, amongst the rats in an old junk yard. Eager to teach the selfish world of man a lesson, they prepare a fortune reading that will destroy a throne and everything around it. The witches go about plotting the fall of Macbeth, rehearsing what they hope will be the bloody and catastrophic aftermath of their prophecy. The three actors brilliantly played the keys roles with humour and violence where appropriate. The musical interludes lightened the play momentarily whilst instantly bringing the audience back to the reality of the storyline of Macbeth.  The immersive set was made entirely of recycled objects, and deranged cast played Macbeth, and his wife, and all the other major characters, swapping roles like a gory game of pass the parcel.
SCORCHED – Open Sky: Tuesday 23 May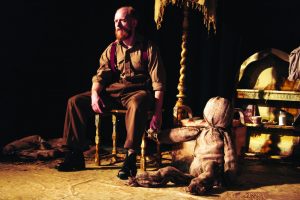 Caterham ArtsHouse hosted one of its most moving and creative productions to date. Scorched presented the true story of a WW2 veteran, following his mind sinking into the sands of time.
The production used physical theatre, incredible projections of animated tattoos and puppetry to tell Jack's story of the Battle of Tobruk, from the armchair of his rest home. Robin Berry's performance of the older Jack was sensitive and convincing, gripping audience members as he transformed into his younger self.
We are delighted that Caterham ArtsHouse has been able to bring such innovative and visually striking theatre to Caterham!
LOVE & RABBITS – The Underground Clown Club: Friday 9 June
 Two fools take to the stage to lead you on a poetic journey through the most surreal, silly and forgotten parts of your imagination.
Love & Rabbits is children's poetry for adults. Taking inspiration from Spike Milligan and Edward Lear, Lewis Carroll and Dr Seuss, two performers create scenes, stories and sketches out of a handful of props and some silly poems, to enthrall and entertain you.
"Performed with such energy, devotion, innocence and heart, that before you know it, you are hooked, you are laughing, and most of all, you feel for the characters." – A Younger Theatre
★★★★  "Like the love child of Dr Seuss and Edgar Allen Poe spliced with a touch of Lewis Carroll absurdity." – Sabotage Reviews
THE GIRL WHO FELL IN LOVE WITH THE MOON- The Human Zoo Theatre Company: Friday 16 June
 It wasn't a particularly spectacular night, as she sat stargazing in her room…'
Join this tattered troupe as Luna's tragic tale unravels for the first time. But why tonight? A Tim Burton-esque patchwork of puppetry, poetry, movement and live music.
GIANT- The Human Zoo Theatre Company: Wednesday 5 July
Tommy, 22, lives with three generations of his family. They've learnt to ignore the strange things his nan says over dinner, and the bizarre rumblings coming from the attic.
Horribly honest clowns and questionable cabaret acts ignite the stage with Human Zoo's trademark live music, puppetry, poetry & movement. 
GIANT is an explosive, absurd and visceral adventure into 'Adulting'… Could Tommy's nan know more than meets the eye?