1811 Circle – Join Us
Marking the year of our founding, the 1811 Circle is a unique opportunity to join fellow members in supporting Caterham School. Members of the 1811 Circle are pivotal in supporting our future plans and help us to widen access to the School.
For every eight 1811 Circle members we are able to offer one new transformational bursary place to a talented boy or girl. 1811 Circle donations also support special projects that enrich the learning experience of our prep and senior school pupils.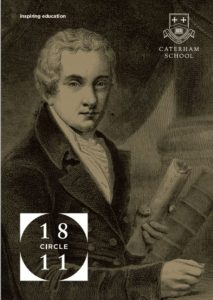 Recognising your support
As a valued member of the 1811 Circle, you will be invited to an annual 1811 Circle reception and key events. You will also be acknowledged in the Caterhamian annual review and Omnia publications.
How to join the 1811 Circle
If you would like to discuss becoming a member of the 1811 Circle please contact Emma Collings, Development Manager via telephone (01883 335111)or email: [email protected]