Beautiful House Music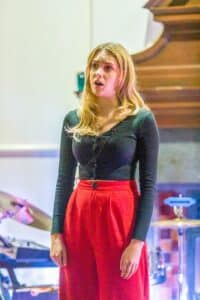 House Music 2022-23 was, as always an outstanding event. Each house was required to present a solo instrumentalist, solo vocalist and an ensemble performance. There were superb performances all round, and it was great to see so many pupils performing and the buzz around the music department.  
In the Solo Instrumentalist Class, Harestone's Philip P (Lower Sixth Form) won the class with his stunning violin performance of Moto Perpetuo, Bridge. His technique as well as his musicianship resulted in an energetic and virtuosic performance. Second place was awarded to Underwood's Jack B (Lower Sixth Form), who performed Merle's Caballero on the Double Bass. This was a characteristic and stylish performance which was warmly received by the audience. Third place was awarded to Ellie S (Upper Sixth Form), who performed a piano arrangement of Lloyd-Webber's Memory from Cats, The Musical. This was a highly expressive performance with excellent balance between the left and right hands. 
The Solo Vocal Class First Prize was joint this year due to both winning performances being outstanding, however completely different in style and genre. These were awarded to Ridgefield's Isabelle P (Fifth Year) and Underwood's Annabella W (Upper Sixth Form). Isabelle P performed the beautiful Somewhere from Bernstein's West Side Story. It was a wonderful, delicate performance which communicated the lyrics perfectly to the audience. Annabella's performance was Get Down from the musical, Six. This was a performance full of panache which was musically excellent whilst being both historical and hysterical! Third place was awarded to Lewisham's Hannah B (Upper Sixth Form) who stepped in at the eleventh hour and performed DeBose's Alyssa Green. It was a well-communicated and expressive performance. 
The Ensemble Class is always a highly-contested and enjoyable part of the competition and this year was no exception! First Prize was awarded to the Boarders for their phenomenal performance of Lloyd-Webber's Phantom of the Opera with full orchestra! Special mention must go to Violet W (Fifth Year) for her fantastic vocals. Second place was awarded to Underwood for their beautiful performance of Dear Theodosia from Hamilton. Rosie B and Jack B producing a sensitive and emotive performance. Third Prize was awarded to Aldercombe for their performance of You'll Be Back from Hamilton, also. This was a vibrant and energetic performance with a real sense of togetherness and unity. 
Each year, the Music Department award a prize for particularly poignant and impressive performances. We were unable to choose between two this year and the recipients of this price were Sophia S (First Year) for her beautiful performance on the violin. She performed with such confidence and accuracy. We had to share the price with Lisa H (Lower Sixth Form), who accompanied one of her Boarding colleagues with real sensitivity and stylistic excellence.  
The final positions were: First Prize: Underwood | Second Prize: Boarders | Third Prize: Harestone 
Congratulations to all participants and a huge thank you to all of the Heads of Houses and Assistant Heads of Houses for their hard work in putting together rehearsals and pupils to perform. 
Back to all news