Exciting Futures Ahead!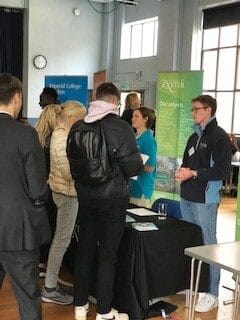 What a joyous occasion this year's university fair was! It was so lovely to have universities back on site and talking face to face to our pupils about their future plans. The excitement in the room was palpable and it was great to see everyone engaging in conversation about a wide range of topics. We were also thrilled to open our doors once more to pupils and their parents from our local partner schools – St Bede's, Oxted, de Stafford, Warlingham and Riddlesdown, and it was great to see Caterham pupils and their parents, from the younger years come along as well.
Representatives from universities up and down the country offered advice on how to choose your course and what to look for at open days. The University of Exeter talked about their beautiful Cornwall campus and how entry requirements can often be lower for courses there. Arts University Bournemouth were passionate about their superb range of creative courses from acting, animation production, architecture and commercial photography to textiles, visual effects and fine art. Jocelyn from The University Guys gave an amazing talk on Study in the USA explaining how different the American system is to ours and how important it is to do your research and find the universities and colleges that will suit your personality. Newcastle's eye opening presentation on medicine and how to make a successful application offered some honest advice on the competitiveness of their programmes, not only at Newcastle but also at all UK medical schools.
We had such a range of different university style campuses represented too. From the city based Imperial, City, Bath and Queen Mary to the collegiate Lancaster to Bristol, Cardiff, York and Nottingham and it was wonderful to hear our pupils learn more about these differences and how they might prefer certain locations to others.
A huge thank you to everyone involved in the event and for helping with all the logistics that go on behind the scenes and I am already looking forward to next year's event!
Mrs Clare Brown
Head of Careers
Back to all news