From the Archives, JHS Look Back in Time
The Junior History Society have been involved in projects in discovering the school's history and traditions. You can find many other Then & Now photographs available at CaterhamHistory on Instagram and at catshistory on Twitter. #ThenAndNow #MyCaterham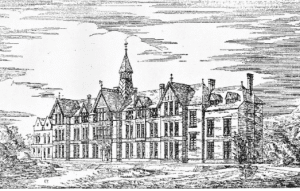 The Architect's Design, 1882
These are a collection of images that show a very well-known site today for the Caterham Community. It has a grand, typically Victorian architectural façade, but there is a much deeper and more fascinating history behind the walls of the school front.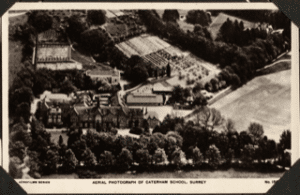 The School Front, 1905

Caterham School, or The Congregational School was originally founded by the Rev. John Townsend to provide education to the sons of ministers. William Wilberforce, the revolutionary figure at the turn of the 18-19th century, was a founding governor at the school.  
It was set up in a five-bedroom townhouse at West Square, in Newington, London, and had six pupils. The school would later move to a grander building in Lewisham that does not survive to this day, and more pupils attended the school. By 1880, Lewisham proved too small for the school, and a site was eventually decided in Caterham, Surrey.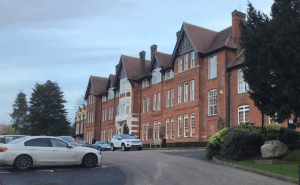 The School Front, 2020
The School Front today remains the proud reminder of the traditions and roots of Caterham School. The school began in a rented five bedroom townhouse on West Square, Newington, and now sits in a site over two hundred acres in the beautiful Caterham Valley. It appears in hundreds of backdrops of historic photos and was always there in the historic moments in time. The lamps were removed on the outbreak of World War Two in 1939 for the blackout periods. It is a sign of the thriving community, the place where every individual pupil begins their journey when they pass through that tall, grand doorway and begin their school career, to make friendships for life and to fall in love with learning. It is the heritage of every single pupil and member of staff, and it will always be there as a reminder of hope.  
 "Veritas Sine Timore." Truth without fear.  
 Written by Narayan M-R  
Thank you so much to Mrs. Hebden, Alumni Officer. To Mr. Bagnall, Archivist. To Miss. Jones, Teacher of History. To Mrs. Nagar, Head of History.  
Back to all news