Poster Competition Winners Announced
Congratulations to our three poster competition winners, Rosie, Eva and Isabelle, whose designs will soon be by the green recycling tubs in all classrooms to guide and remind.
If you're on an Easter walk this holiday Fleur, one of our student beekeepers,  would like you to be watchful with https://beewatch.abdn.ac.uk/beewatch if you have location data or photos, you can send it to Mr Stamper, email below, who will forward it on to Fleur for logging. Or you can create your own account and add data yourselves.
The National Biodiversity Network need data too, so maybe look here and help out: https://nbn.org.uk/biological-recording-scheme/bird-track/
Well done to our on-site First Year litter collectors – Santosh, Liam, Daniel, Alex and Oscar – who have picked up kilos and kilos of litter around the school – commendations on the way.
We're still seeking pupils from all years, who might want to join and help. Thank you to all the current Green Committee members this term.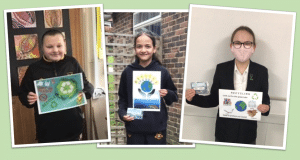 Back to all news