Utilising Activism to Instigate Positive Change
This morning saw the next EDGE session for our Lower Sixth Form. The theme was activism and we had four speakers, all with different stories of how they utilise activism to instigate positive change.
We welcomed Poppy Burton-Morgan and Will Reynolds, co-founders of MettaTheatre, a theatre company that Poppy says 'exists to change the world'. Artistically there is a big focus on music, but the casting and often the productions themselves focus around activism, inclusion and diversity. We heard about a forthcoming production HouseFire, which deals with the issue of climate change, but how the company also demonstrates its commitment to equality through the use of inclusive casting.
Siobhan Baker inspired with her talk about quiet activism and her realisation that the creative fields she had been working in all led her to training to be a coder. As a black woman she found herself in a tiny minority (0.7%, she told us) of the tech workforce and has since joined the leadership team of Coding Black Females to help other women like her join the sector.
We also heard form Christina Adane, recently named as one of the BBCs top 100 women of the year. Christina, only 16 years old, is already an experienced activist, but has found the work she does taking centre stage following beginning a petition to extend free school meals into the holidays. As is well-documented, professional footballer Marcus Rashford got behind the cause and together they have been highly successful in their campaign.
Pupils then spent some time in their classes discussing what they had heard and how activism links to the subjects they are currently studying, exploring topics as varied as climate change and protest lyrics, to debating which forms of activism they perceive as effective and useful.
The EDGE course which runs in our First and Second Year, as well as the Lower Sixth is designed to help develop the skills our pupils need to become excellent problem-solvers, and to empower them and provide them with the understanding and knowledge they need to thrive in the world outside of the school environment.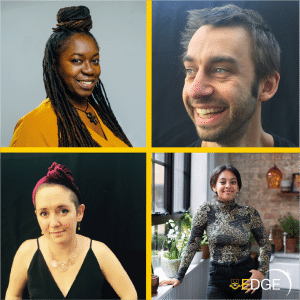 Back to all news