2019 ART AND DESIGN EXHIBITION
You are warmly invited to Caterham School's 2019 Art and Design Exhibition and the launch of this year's edition of our pupil-led humanities magazine Cat Among the Pigeons on Monday 23 September from 7.00pm until 9.00pm.
The evening will be run as an immersive art exhibition around the whole school campus including use of digital innovation. The work exhibited will feature outcomes from 2019 GCSE and A level Art, Photography and 3D.
Cat Among the Pigeons launched last year is our magazine showcasing the best of the students' co-curricular arts and humanities work from across the year at Caterham School. 
Hard copies will be available for you to take home from the event as well as a chance to hear from student contributors.  
We look forward to welcoming you to this wonderful celebration of creative and intellectual endeavour at Caterham School.
Monday 23 September, 7.00pm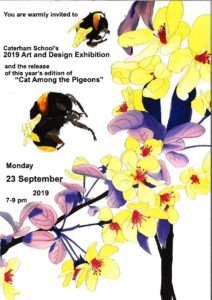 Back to all Events