Christmas Dinner Dance, Parents' Association Event
Saturday 30 November, 7.15pm
Venue: Surrey National Golf Club
Caterham School Parents Association is delighted to announce that tickets are now on sale for the fabulous 2019 Christmas Dinner Dance on Saturday 30 November.
We are shaking things up a bit this year!  We have a new DJ who will play your song requests, and we are trialling a different lay out for tables and dancing!  There will be an official photographer, mealtime games and prizes, a free welcome drink, two licensed bars, a delicious christmassy 3 course meal and a 1am late license!  Profits will go towards the PA's three chosen charities.
Tickets are £50pp, and can be purchased on Wisepay.  Tables are for 10 people.  At the point of your booking, you will be asked to list dietary requirements, and enter optional wine pre-orders and song choices for the disco play list! 
You can buy 1 or more tickets per table and you can name a group of friends as your "preferred seating companions".  Please agree and confirm a Lead Name for such bookings.  If you wish to be certain of being placed together, we recommend you make arrangements amongst yourselves in advance, and one person makes the whole booking for 10.
If you are not sure who to sit with, simply tell us your year group(s) at the point of booking, and we will endeavour to place you accordingly. 
Click here to book via Wisepay.
If you have any queries regarding your booking on Wisepay, please contact Rebecca Parker at [email protected] who will be able to assist you.
We look forward to a fun and entertaining night!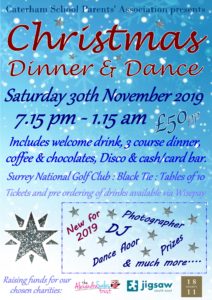 Back to all Events