House Music – Harestone crowned champions for 2022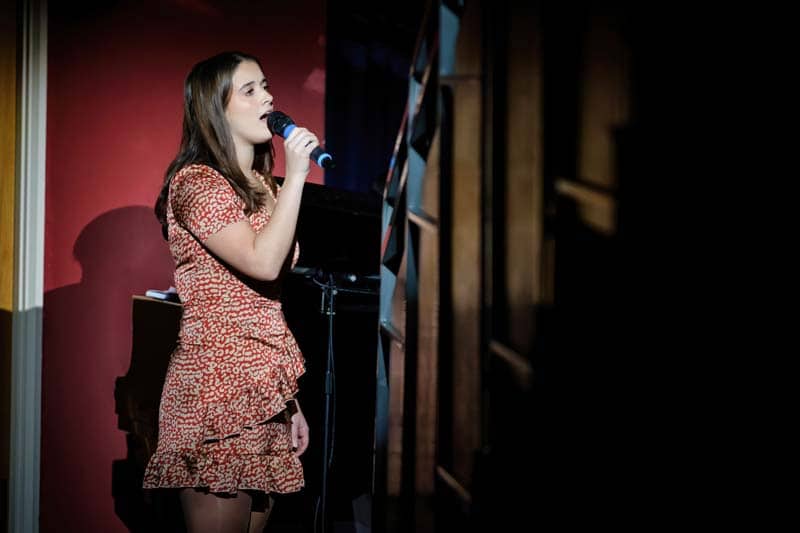 House Music was once again a lively and close-fought competition with pupils from all age groups participating and supporting. Each house was required to present a solo instrumentalist, solo vocalist and an ensemble performance. There were some superb performances all round, and it was great to see pupils get involved and have a lot of fun. The guest adjudicator this year was one of our fantastic Visiting Music Teachers; Rosanna Moon (double bass/bass guitar). Rosanna plays for the Orchestra of the Age of Enlightenment and is also a jazz musician; we were incredibly pleased to welcome a musician of such calibre to offer her feedback and comments.  
In the solo instrumentalist class, Annie L (Third Year) won First Prize for the Boarders with her beautiful performance of Chopin's Waltz in C# minor on the piano. The Second Place Prize was won by Harestone's Jessica C (Second Year) with her lyrical performance of Salut D'Amour, Elgar. Third Place was won by Newington's Alex M's (Lower Sixth) expressive and detailed performance of Brahms' Intermezzo No. 2 in Bb minor. Special mention must go to Underwood's Jack B (Fifth Year) who stepped in to perform just a few minutes before the start of the competition. 
The solo vocal class included some quite sublime performances. The winning entry, Lewisham's Anna D (Lower Sixth) who performed So Big, So Small, from the musical, Dear Evan Hansen; this was a jaw-dropping performance and was quite simply, stunning! Harestone's Sophia M (Lower Sixth) bagged second place with her stylish interpretation of Amy Winehouse's song, Love is a Losing Game. Third place was awarded to Anna P (Upper Sixth) with her expressive and lyrical performance of Crouch's Kathleen Mavourneen. 
The ensemble class brought much entertainment for everyone and there was a general air of enjoyment, fun and comradeship. First place was awarded to Ridgefield's performance of You Will Be Found from the musical Dear Even Hansen; they had some outstanding harmonies, superb togetherness and rapport. Second place was awarded to Lewisham for their performance of Fix You, Coldplay. Special mention must go to Samuel B (Second Year) for stepping-up at the eleventh hour to perform a wonderful solo with excellent accuracy and projection. Third place was awarded to the Boarders for their wonderful trio performance of Shostakovich's Prelude and Gavotte from Five Pieces. 
The Music Department Prize is a new award in the competition which does not award any marks, but is recognition of a pupil who has really impressed the music staff in the competition. This year it was jointly awarded to two pupils for stepping-in at the last minute; Alice H (Fifth Year) and Jack B (Fifth Year). 
Special mention must go to Philip M (Fifth Year) for his energetic percussion performance and his attempts to encourage audience participation in Harestone's ensemble as well as Ferdy C's (Upper Sixth) exuberant piano accompaniment for the Newington ensemble. 
The final standings of the competition were incredibly close, with just two points separating first to fourth place. Harestone were crowned the winners this year with runners up being Lewisham with third place shared between The Boarders and Ridgefield. 
Congratulations to all participants and a huge thank you to all of the Heads of Houses and Assistant Heads of Houses for their hard work in putting together rehearsals and pupils to perform. 
Back to all news