Annual Final of Public Speaking and Debating Competition
The final of the annual House Public Speaking and Debating competition has become one of the highlights of the year and this year was no exception. We were enormously impressed by the range of prose, verses and topics chosen by the junior competitors, which ranged from Funeral Blues by W. H. Auden to E. B. White's classic Charlotte's Web.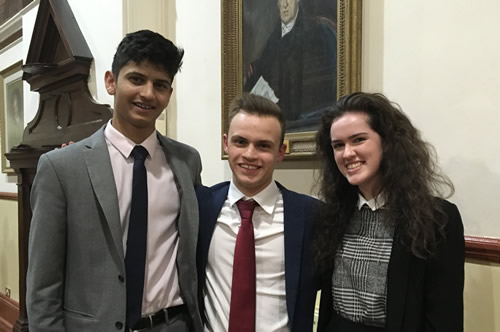 All of our junior competitors competed with confidence and flair, no mean feat when asked to stand up and deliver in front of a room full of people. Particular congratulations goes to the winners the Underwood team comprising Isabel, Thomas and Sophia. As usual, our Inters competitors (Third to Fifth Year) took part in an English Speaking Union-style debate, with topics including gender inequality in mental illness, unequal pay in sport and corruption within politics.
Once again it was Underwood – comprising Nell (speaker), Matthew (questioner) and Ben (chair) – who emerged victorious. We were particularly impressed by the standard across all three roles of their team. Our senior debate was on the motion 'this House believes that U.K. democracy is in crisis'. The judges were enormously impressed by the performance of both the proposition (Ridgefield) and their opponents Lewisham. Congratulations to Lewisham's team comprising Rory, Anna and Neil for winning a very tough debate indeed. The night was a wonderful display of the myriad of interests our pupils have and an enjoyable and stimulating time was had by all. 
Back to all news