Another triumphant choral performance at Hampton Court
Our Chamber Choir and ETS (Eric Thiman Singers) made a return visit to the iconic Chapel Royal at Hampton Court Palace in an Evensong service that was uplifting and stirring.
Chamber Choir demonstrated their skill and precision in their singing of the Magnificat and Nunc Dimittis settings by Purcell and in the response settings by Byrd. The semi-chorus was a beautiful feature and pupils must be congratulated: Georgia Young, Millie Thomas, Ferdy Clarke, Thomas Boyd, Josh Millar and Justin Deale. The anthem was delivered beautifully by ETS and both choirs together performed a jubilant hymn with force and energy. Chapel Royal is a significant venue for choral music- both Purcell and Byrd wrote for the chapel as far back as 1572. It was a wonderful experience for Caterham choirs to perform in this inspiring setting and all who attended were keen to congratulate the choirs on their achievement. Hampton Court representatives again expressed their admiration for our choirs and commented on their professionalism as well as their singing.
Mr Adam Assen, Director of Music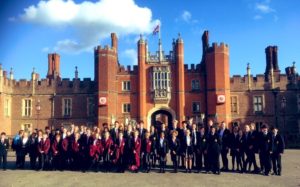 Back to all news