Athletics Best Moments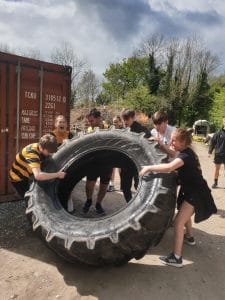 Although we have had a rainy start to the Athletics season, there has been no shortage of exciting improvements and personal bests being set during training. Each athlete has spent this half term learning correct running technique with particular attention being paid to the "fly phase" of the sprint and correct positioning of the toe, knee and hip. In addition, our junior athletes have had the opportunity to be introduced to each of the five field events whilst our more advanced athletes have focused on improving their distances in their chosen field event. On the days when the weather prevented a traditional athletics session, we had the opportunity to test the pupils' resilience and teamwork through tyre flips, relay races and physical challenges on Dome Hill.
Here are some athletics moments of which our pupils are most proud this half term:
"I did 100m in 12.40 seconds which I'm quite proud of." Anthony S-K (Fourth Year)
"This year, I've been able to jump 1.50 metres more than my distances from last year and I'm throwing the discus 10 metres more as well!" Lilian D B (First Year)
"I ran the 800m in 2.19 minutes which has placed me fifth in the nation in my age group." Estee N (Second Year)
As we look towards the second half of the summer term, we have the Epsom College Invitational, the Caterham Diamond League and Sports Day to come. Great work so far athletes and we cannot wait to see what the next half term brings!
Back to all news