Awards for Caterham at English Speaking Union
Caterham School has again taken part in the annual English Speaking Union debate, this year held at Wilson's School, Wallington. This year our team comprised Nell (Fourth Year), Suzannah (Fourth Year) and Karen (Fifth Year). We joined six other schools for a lively and diverse evening where our pupils competed against some very accomplished young debaters. Although we were disappointed not to come first or second, we were delighted that two of our pupils came away with awards. Suzie was awarded 'best chair' and Karen, a regular attendee of our own debating club, was awarded 'best personality' after a hugely stimulating talk on the merits of a cashless society.
A huge congratulations to our team, I was so impressed by the standard of their delivery and the support and encouragement they showed each other.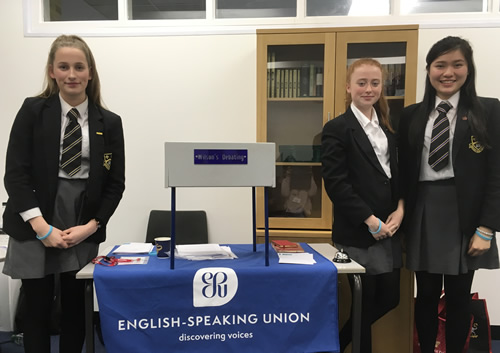 Back to all news