Caterham busker creates Christmas classic!
Caterham School Performing Arts are always delighted to share news of our students' achievements – and this one is particularly exciting!   Nathan in the Lower Sixth has just had a song released by Scouting for Girls!
Nathan (stage name Jackson Freedman) has been busking in Bligh's meadow since he was twelve, but on the side has been writing his own songs.  Last summer, his father challenged him to write a Christmas song without the word Christmas in the lyrics and it being about watching telly. As his father puts it, "It seemed like a song we could agree on. A grown up song about loving the holiday, loving each other, but mostly loving watching telly on a big day off."  After 20 minutes he came back with a hook about wanting to stay home watching re-runs rather than visiting relatives, "It's not you, it's not me, it's your family."
The song is called 'Let's Not Go Away' – recorded with Roy Stride from Scouting For Girls.
It is a bonus track to the new Scouting For Girls album, 'The Trouble With Boys' through Sony Music and will be out on all platforms mid-November.
Scouting for Girls will be debuting 'Let's Not Go Away' live on their current UK tour and Nathan will be singing it in Bligh's Meadow as he busks in amongst his set.
It's out on Spotify and iTunes and various other music platforms now for you to listen to and download. Click here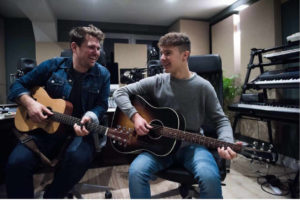 Back to all news