Caterham Takes the Podium at South of England STEM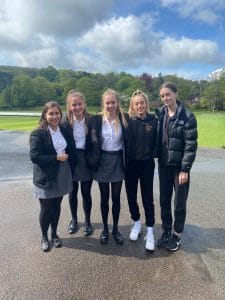 Nine months ago, Caterham Teams representing all year groups from First to Fifth Year started a gruelling challenge called VIRTUAL HEALTH APPRENTICE, organised by SATRO, an educational charity working across the South East of England whose aim is educate young people in science & technology.  Teams from schools across the South East were given the brief to plan and design improvements to our NHS.  "Could you: empower the public to take more care of their health, make hospitals smarter, improve patient care, make tasks and/or staff more efficient, introduce new technology or make healthcare more mobile".    Each team appointed a Team Leader, decide a team name, created a logo and team identity and over a period of eight months had to complete eight tasks, each time submitting their work to the judges at SATRO.
Mr Quinton said that "when I asked last September who was interested in a career in medicine and who might like to take part, I was stunned by the number of pupils who responded and the incredible ideas they came up with.   The work ethic of the pupils was extraordinary.  They had to complete each task in their own time and work throughout the holidays. I am incredibly proud of them all"
In fact, Caterham Teams won the top four places in the competition!    The overall competition winner was Team THINKTEC (First Year Zara C – Team Leader, and Abi P) 
They called their idea 'Thoughtful Technology Zara and Abi said, 'We are Think Tec, our innovative idea for the SATRO challenge to improve the NHS is a robot called 'Robodoc'.   Robodoc is designed to relieve pressure from the busy and overwhelmed medical staff in hospitals and GP surgeries.  We felt that technology is most definitely the way forward and future proof innovation as it is fast, efficient, accurate and can easily be improved and updated.   Robodoc can help perform from a simple to most complex tasks with speed and accuracy without fatigue.  We felt it would be an asset to any medical field as well as other sectors.
Silver was taken by VIA-US, a team (above) put together by Fifth Form aspiring medic Mina D.   She said 'Our aims were to explore the ways the NHS can spend money effectively, how younger generations can be encouraged to consider medical jobs and using social media to spread awareness on how one can stay healthy.
GOLD MEDAL: Team THINKTEC (First Year)
Zara C (Team Leader)
Abi P
SILVER MEDAL: Team VIA-US (Fifth Year)
Mina D (Team Leader)
Iris F
Ellie S
Harry J
Tara J
Salina H
BRONZE MEDAL: Team – MOBILIVITA (Fourth Year)
Zandile-Monique A-N (Team Leader)
Helen Y
Candice B
Chanté Ms
Millie C
Fourth Place: Team HOSPITES (Fifth Year)
Anastasia S (Team Leader)
Rachel C
Sophia L
Fiona C
Back to all news