CATP Launch and Art Exhibition 2022
The school buzzed with creativity and energy on Thursday evening, kicking off the school year. Over 100 student artists featured in our annual arts event. With pupils' work adorning the corridors and halls, Caterham played host to the 2022 launch of the 'Cat Among the Pigeons' Arts and Literary magazine. The best of Caterham art was showcased alongside performances of creative writing featured in the magazine. The immersive nature of the exhibition took visitors on a walking tour of the school punctuated by pop-up dance and drama. The event culminated with the presentation of this year's edition. Congratulations to the 2022 editorial board, headed by Paige Griffiths for producing a fantastic and vibrant publication.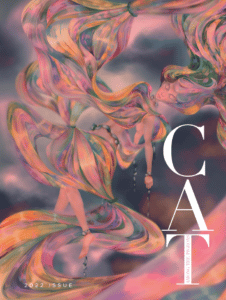 If you would like a copy of the magazine please contact [email protected] or check out the on line version here.
Submissions are now open for next year's magazine and the 2023 editorial team is now in place led by Ria M (Upper Sixth). Inspired by the success of last Thursday, the creative arts are truly thriving in Caterham. 
Back to all news