CC Insight Evening Welcomes Expert Views on Finance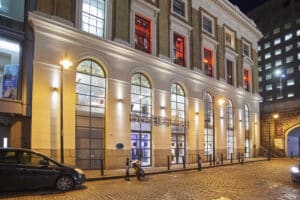 City movers and shakers from the CaterhamConnected network inspired Sixth Form and young alumni at the sell-out Insight Evening which took place at Glaziers Hall, London Bridge on Tuesday evening. The full power of the CaterhamConnected community was evident as expert views on global outlook for the Financial Services Industry were shared and networking skills were honed.
Huge thanks to our keynote speaker Alister Hibbert and to fellow panelists Anna Ohlsson-Baskerville, James Burns, Bruce Whitfield, Adrian Cox and Angel Wu for making time in their busy diaries to ensure this event was such a success.  Not only did our speakers light up our pupils and alumni with their wisdom and insight- but also pupils from our partner school the London Academy of Excellence. We would also like to thank the Old Caterhamians Association for their continued support for the CaterhamConnected Insight series.
Make sure you're signed up to the CaterhamConnected platform or App (android or Apple) to receive invites and access your Caterham network.
"The Caterham Connected Insight Evening was extremely useful as there were lots of experienced speakers. It was a fascinating experience because it gave me great insight into what the finance industry is really like. The information about working in insurance was particularly interesting to me since I have been thinking about working in a similar industry for a while now. I have also learnt new things like the role of the job and importance of trust and communication skills within the industry which I never knew."  Pupil
"Pupils had a fantastic time and can't stop talking about how much they learnt and took away from the event" London Academy of Excellence 
"I wanted to tell you how grateful I am! They both came back home yesterday very inspired and impressed and full of plans – thank you so much!" Parent
"The speakers were amazing too – the event was nothing short of an enlightening experience and I'm more excited to think about my career now than I was before I walked through that door. All in all, it was a brilliant evening and I'm immensely grateful for the invite." Old Caterhamian
Back to all news