Chief Scout Platinum Award
Congratulations to Matthew, Lucy and James (Fifth Year) who have recently achieved the Chief Scout's Platinum Award.
This requires outstanding effort and commitment over a long period of time and few Explorer Scouts achieve this honour. All three students are greatly involved in the scouting movement being young leaders in Beavers or Cubs. It was presented at the United Reformed Church by the Scout District Commissioner. Congratulations for achieving this prestigious award!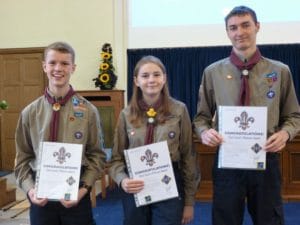 Back to all news