Coloma Cup Champions!
Last Saturday, Caterham hosted the Annual U13 Coloma Cup at Hill Fields. This invitational tournament is catered towards B and C teams as well as small schools in order to give these girls an end of season tournament. Our U13B and U13C teams were in attendance as well as ten other teams from all over the South East.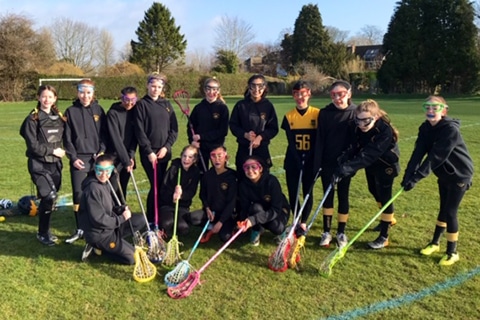 Excellent sportsmanship was displayed by all the teams which created a very pleasant and competitive environment for all the players. Both our U13B and U13C teams qualified for the Plate Semi-finals after the group stages.
In the semifinals, the U13C team met Guildford High School U13Cs. A fabulous game that eventually went in GHS favour but Caterham did not make it easy, a 0-2 loss. Unbelievable play in goal from Katie, who made over 10 saves in the defeat to keep the girls in the match! The U13Bs beat St Cat U13Cs in the Semis (2-0) to meet GHS U13Cs in the Plate final. An amazing showing of grit and determination by the LaxCats resulted in a 2-0 victory! Congratulations to the U13B LaxCats who were crowned Coloma Cup Plate Champions! Well done to all the LaxCats on a fabulous end of season tournament.
Back to all news