Creative Half Term, The Big Draw
Time to get creative with your iPad and the use of the digital apps this half term. It is the annual House Art competition but this year with an international twist as we also participate in The Big Draw that takes place in many countries to encourage drawing as an essential thinking and communication skill for all. See poster for details and rules.  
This year's theme is Climate of Change which can pick up on personal changes , political, environmental and societal. It is key that students don't cppy from other people's imagery or photos and keep their ideas original. 
Earn points for your House and get your work featured in a virtual gallery. There are points and winning positions available for Junior, Inters and Seniors. 
The best work will be printed on the high-quality digital printer we have here in school too! 
Any queries please email [email protected]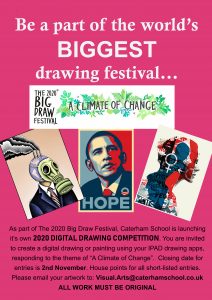 Back to all news