Creative Writing Win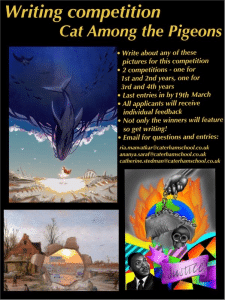 Congratulations to Lana C who was the overall winner of the Caterham Junior Creative Writing competition for 2021. Lana's poem will be published in this year's Cat Among the Pigeons (CATP) magazine alongside the other entries. The competition saw a very strong standard of entries and congratulations must also go to runners up Mathilda O and Zosia H.
The competition was c-ordinated by pupils, with Ria M, Junior CATP editor taking the lead under the guidance of the CATP senior editors Ananya S, Milie T and Lilly. 
We're looking forward to seeing all the entries in the magazine when the next edition is launched in the Autumn Term.
Back to all news