CSS Omnia Magazine – Out Now!
From Caterhamians generating global media shows, film stars catching the eye of George Clooney and budding politicians rising up the ranks, the latest edition of Omnia highlights a number of former pupils who share their experiences of life in the world of media. It also celebrates the 40 year work anniversary of Head Groundsman (and Caterham legend) John Dodwell.
Omnia is the magazine for the Caterham School Society, an umbrella organisation which combines the strengths of the Parents' Association, the Old Caterhamians' Association to support everyone within the widest school community.
Parents (current and former) can make the most of the professional and social networking opportunity presented by the CSS, in addition to supporting mentoring, by signing up online:  CaterhamSchoolSociety.co.uk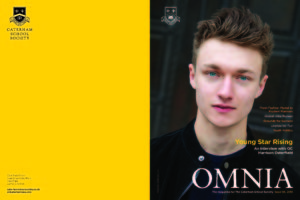 Back to all news