Dazzling Displays at the Piano Recital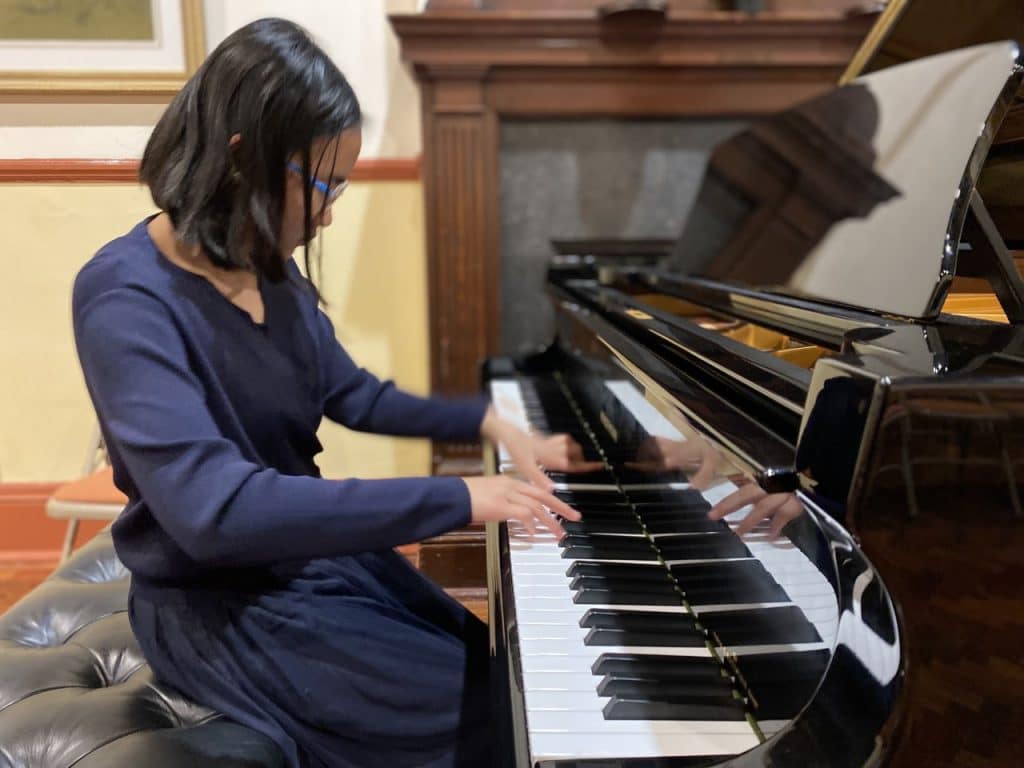 Talented pupils ranging from First Year to the Upper Sixth performed an eclectic repertoire at this year's Piano Recital in the beautiful Wilberforce Hall.  
The evening commenced with a rampant performance of Schubert's famous piano duet, Marches Militaires with Ethan G and Rodney L (Fourth Year) performing. Both Ethan and Rodney are new to the school and have only been working together as a duet partnership for a matter of weeks. Ferdinand C (Upper Sixth) is a regular in the music department and can be heard practicing piano. He is mostly self-taught and his performance of Joplin's Maple Leaf Rag was full of energy and drive and he managed to capture the playful character of the piece brilliantly.  
Mathilde G (Third Year) performed Moonbeams by Arens. She performed with real sensitivity and lyricism throughout with wonderful voicing of the melodic lines. Annah M (First Year) gave her debut piano performance in the school, performing Einaudi's I Giorni. She managed to play with fluidity and it was wonderful to see her perform with a beaming smile on her face. Tijmen P (Second Year) gave an energetic performance of Bullard's Disco Baroque, his dynamic variety and energetic drive in this piece was superb.  
Cindy C (Third Year) performed a stunning piece, Summer by Haisaishi. Cindy's opening was immaculate, with excellent clarity with the staccato articulation. A really beautiful piece of music. This was followed by Scena da Balletto, Chaminade, which was performed by Franchesca C (Fourth Year). Her performance was refined and she managed to capture the Viennese-esq style throughout, with excellent attention to detail.  
Ethan G (Third Year) performed the lyrical masterpiece, Nocturne in C# minor, Chopin. From the very start with the opening chorale idea, he had the audience on edge. He performed with a mature understanding of the lyricism and sensitivity that this piece demands. Alice H (Fifth Year) performed Chopin's Mazurka in G minor with melancholy and expressive character, and really brought out the intricate phrasing of this wonderful piece. Annie L (Third Year) performed the final piece by Chopin, Waltz in C# minor. Her excellent finger work in the expressive runs and the energy that she demonstrated throughout was superb.  
Mikako S (Fourth Year) gave her interpretation of Brahms' Rhapsody in G minor; a piece that requires virtuosic hand-crossing and a grand sound. Mikako was able to achieve the rich tone that Brahms' music is so renowned for. Rodney L (Third Year) then gave a sublime performance of Schubert's Impromptu in Eb minor. He performed with dexterous mastery and demonstrated a mature understanding of the stylistic demands of the piece. I must commend Rodney for managing to achieve such a grand sound in the dramatic middle section of the piece – to create such a warm yet rich sound whilst maintaining such accuracy shows the vast potential that Rodney has at his grasp.  
The concert concluded with an original composition by Raife N (Upper Sixth), who has received numerous offers to study at top British conservatoires. Raife has a natural ability to compose with harmonic sophistication and dramatic flair. This piece definitely did not disappoint. The opening section contained wonderfully complex chords and subtle phrasing, which developed into a formidable, dramatic explosion of chordal, pianistic ecstasy.  
The concert was a celebration of the pianistic talents here at Caterham School, and all performers must be commended for their wonderful performances. 
Back to all news