District Gymnastics: A Fantastic Finish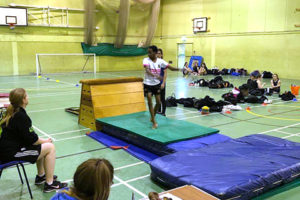 On the afternoon of Tuesday 26 March, six Caterham First Year pupils competed at the district gymnastics at Oakwood School in Horley.
All participating pupils; Jake, Tunrore, Sara, Leah, Zoe and Ayla did fantastically well and a special mention should go to Sara, Zoe and Ayla who finished in first, second and third places respectively!
Coach Lisa Soyvural from Caterham Gymnastics was ecstatic after the performances; "This is a culmination of the hard work this group has done on Monday lunchtimes at the gymnastics club. The journey from the starting levels in January to now has been astounding. They should all be so proud"
Well done to all pupils who took part!
Back to all news