Easter Netball Camps
Over the Easter holidays the Netball Academy hosted two netball camps.
The first was a 'match play day' in which we were joined by a touring club from Abu Dhabi. The morning was spent learning different positional- based skills and tactics and then the afternoon saw an enjoyable, friendly tournament out on the Beech Hanger courts. We were also joined throughout the day by Surrey Storm players Sigi Burger and Leah Goss who coached the girls but also gave a talk about their netball journey and answered on life as an elite athlete.
The second camp was held the week after, with Sigi Burger in attendance again! The girls picked up lots of useful coaching tips and tricks from the South African International. The weather also played a starring role in this camp and enabled us to make use of the outdoor courts at the Prep School, a beautiful setting for the two days.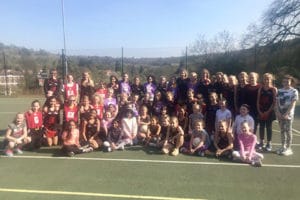 The Netball Academy hosts sessions during term time as well as 'back to netball' sessions on Thursday mornings. Contact [email protected] for further details. 
Back to all news