EDGE: AI & Future Tech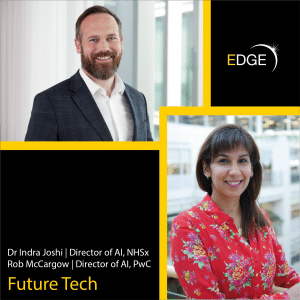 This afternoon we were lucky enough to be joined by Dr Indra Joshi, Director of AI at NHSx and Rob McCargow, Director of AI for PwC who shared their experiences of working in the field of Artificial Intelligence, but also of the careers and pathways they took to arrive at these jobs. 
We learnt a lot about the way data is being used broadly across a range of sectors, with Dr Joshi giving us a particular insight in the healthcare landscape and how this is developing, taking us right up to the present day and the way algorithms are being used to keep track of hospital beds and oxygen cannisters during the pandemic.  
Rob gave us a global overview of the impact AI is predicted to have on the economy and our pupils asked some great questions about society's appetite for change, some of the ethical challenges of big data and AI, as well as the bias that seems to be frequently inherent in test systems.  
Overall, what was striking was just how important the human being is to the appropriate use of AI and how likely it is that all our pupils will be technologists in some way, irrespective of their particular jobs and interests. Both Indra and Rob expressed with great passion, that the career pathways of the future will be very different to the traditional ones we are used to hearing about and that an agile and ongoing approach to learning is going to be vital.  
The EDGE course which runs in our First and Second Year, as well as the Lower Sixth Form is designed to help develop the skills our pupils need to become excellent problem-solvers, and to empower them and provide them with the understanding and knowledge they need to thrive in the world outside of the school environment.  
Back to all news