EDGE: Ethics in the 21st Century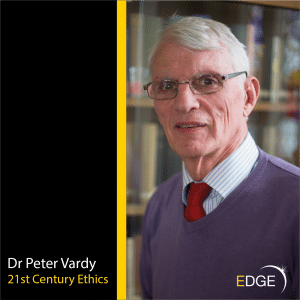 On Wednesday morning this week we were delighted to welcome Dr Peter Vardy to deliver the next in our series of EDGE Seminars for the Lower Sixth Form. Dr Vardy is a renowned theologian, as well as the author or co-author of 18 books. He was the vice-principal of Heythrop College, University of London for 12 years and is a Fellow of the Institute of Chartered Accountants having been the youngest chairman of a company quoted on the stock exchange. 
Dr Vardy spoke about 21st Century Ethics, a topic that couldn't be more relevant in the current climate. His specific topic was the ethics of driverless cars, but it became quickly apparent that his theme was far more wide-ranging than this, ultimately coming round time and time again to the question of 'what is it to be a human?' 
 Pupils were introduced to the 'trolley problem' originally designed as a thought experiment in the 1960's, as well as some of the key philosophical thinkers and ethicists from Foot to Rawls and Plato to Kant, whilst bringing us right up to date with examples of Artificial Intelligence being used for prisoner sentencing and the complexity about ongoing innovations such as Elon Musk's Neuralink.  
 Our pupils may well all end up driving cars, some of which may have a degree of autonomy baked in, but what Dr Vardy highlighted was that the ethics surrounding Artificial Intelligence in particular are likely to impact across a vast array of fields. 47% of jobs, he told us, are predicated to be at least partially automated in the coming years but what does that mean for those who are displaced? Where will we find meaning? What does it mean for humans if writing and art can be produced by machines?  
Our pupils will work in fields where they may well have the opportunity to influence the direction of travel with some of these questions, and they hopefully have begun to see and reflect upon the fact that ethics, and the complex ethics of the 21st Century in particular are relevant in all sorts of areas, from law to medicine and business to programming.  
Dr Vardy was full of praise for the EDGE course which he said challenged pupils to think outside the box as well as giving them an opportunity to challenge conventional thinking, which was so often missing from traditional education.  
EDGE stands for Explore, Develop, Grow, Evolve and is the result of years of work developing innovative teaching and learning strategies that help prepare our pupils for an exciting and ever-shifting future.  
 This bespoke course has three core strands: Learning to Learn, Big Ideas and Problem-Solving in Action. The Learning to Learn strand builds upon our formidable reputation as a school which helps pupils build skills to allow them to be more self-directed, independent learners. Big Ideas, gives time to exploring the complex 'wicked' problems in the world, such as the environment or education-poverty. This feeds into the final strand, in which we give pupils the opportunity to collaborate on projects which allow them to develop solutions to real-world problems through the OCA Innovation and Collaboration Award.  
Back to all news