Enzo Flies for Harlequins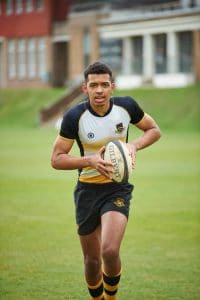 A few weeks ago we wished Enzo P the very best of luck for his upcoming U18's Harlequins match against London Irish U18's. He had been drafted into the squad 1 year early in order to face their familiar South-West London rivals. Enzo shone in this fixture, coming on at half time and playing an instrumental role in turning a 2 point deficit into a 25 point victory! The final score being 45-20 to Harlequins.
Since then he has been fortunate enough to play at Franklin's Gardens Stadium, home of the Northampton Saints. He was elected as Captain for the game against Worcester U18's leading the squad to a resounding 45-22 victory. This weekend, Caterham's young fly half is pitted against Saracens U18's on home turf at their training ground in Cobham. We wish him all the very best for this next bout of fixtures. 
Back to all news