ETS & Chamber Choir – Tour to Rhine Valley, Germany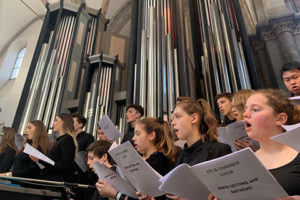 This year's choir tour saw both ETS and Chamber Choir venture to the Rhine Valley in Germany. Outstanding performances took place in the majestic and awe-inspiring cathedral and St. Andreas church in the centre of Cologne. Additional concerts took place in Bonn and Koblenz. Presenting repertoire by British choral composers including; Purcell, Elgar, Chilcott and Goodall, both choirs sang with wonderful precision and style- audiences at all concerts commented on the beautiful, blended sound. The professionalism and impeccable performance etiquette of all singers was also noted by local musicians and fellow choral singers. ETS members on tour included Year 5 Prep pupils; for some it was their first time away from home. The willingness of the senior pupils to look after younger ones was impressive. The effective through-school model could not have been more apparent on this tour – for several of the Upper Sixth pupils (who this year, enjoyed their final choir tour abroad) it marked their significant contribution to choral singing at the school. Charlotte (Upper Sixth) who performed a stunning rendition of Dido's Lament (from Purcell's opera, Dido and Aeneas) joined ETS in 2010, ETS's inaugural year. The experiences gained in ETS, then later in Chamber Choir across the years, have included performances in Westminster Abbey, St. John's Smith's Square, Chapel Royal at Hampton Court and in countless churches and Cathedrals across Europe. 
Both ETS and Chamber Choir should be congratulated on their continued musical successes. They are such fine examples of Caterham School pupils – displaying through their singing; confidence, passion, great depth and intelligence. 
Back to all news