Fab February Fun Winners
Thank you to everyone who entered our Fab February Fun Competitions! There were some incredible entries which included families & pets, a lot of technical wizardry and general fabulousness. Choosing winners in the 'Shakespets' and 'Movie Magic' categories was a near impossible task for the Drama Department- you are all winners in our eyes! However, there were a couple of entries that particularly stood out.  
In the Shakespets category, congratulations to Scarlett in 5H for her and her cat's retelling of Lady Macbeth's murderous exploits! We were super impressed with Scarlett's ability to get her cat involved in an entire storyboard and appreciated all the little touches which helped set the scene and tell the story.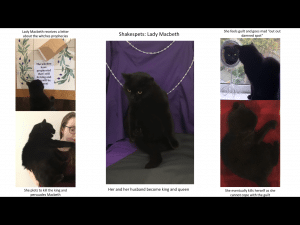 In the Movie Magic category, congratulations to Rosie in 1R and her re-imagined poster for Ratatouille (or should I say Hamatouille!) Rosie really entered into the spirit of things with her poster, getting family & hamster involved and producing an excellent homage to a well-loved Disney tale.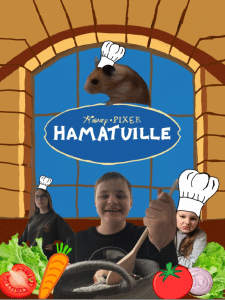 Scarlett & Rosie have both won a £10 Amazon voucher. Congratulations! 
We also wanted to recognise the following fantastic entries in both categories as Highly Commended: 
Shakespets: Holly- Heather (5H), Ava (1P), Charlotte & Francesca (2O & 1P), Lucy (1R)  
Movie Magic:  Eva (2T), Bjorn (1R), Oscar (1P), Emma (1R) 
If you haven't yet, do check out all the entries by clicking here
Thanks again to everyone who got involved! 
Back to all news