Flt Lt Samantha Rawlinson Inspects and Inspires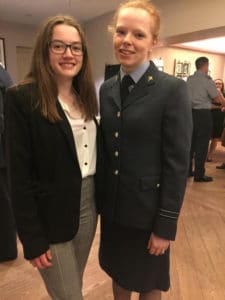 This year the CCF were delighted to invite back, Old Caterhamian, and ex-cadet of the Unit, Flt Lt Samantha Rawlinson of the Royal Air Force as the Inspecting Officer for this year's passing out parade.
At Caterham between 2009-2011, Flt Lt Rawlinson was a cadet NCO in the Corps' Army Section. She went on to read medicine at St John's College, Oxford, where she received a medical bursary and subsequent cadetship. After graduating and postings in Vietnam, Sri Lanka and Australia, she served at the Queen Elizabeth Hospital in Birmingham, home of the Royal Centre for Defence Medicine, working in the largest critical care unit in Europe. She is soon to start a new posting at RAF College Cranwell as a general duties medical officer. 
Flt Lt Rawlinson has also represented the RAF Athletics Team at the highest level.  She has medalled at the inter-services in multiple events and has been selected for the HQ AIRCOM Inter-Nation Athletics Championships three times.
Following the parade, Flt Lt Rawlinson, who is an advocate for the School's Transformational Bursaries Appeal, took time to chat to one of the pupils who is a lead for the Caterham School Society. She also spoke to other pupils interested in careers in the Armed Forces or in medicine.
Back to all news