Grand Prix Win for Ollie
Life in the Fast Lane
Caterham driver Ollie G (Fourth Year) has enjoyed a successful last couple of months at the wheel. Ollie races in two main Championships – The European Series and The British Championships and travelled as far afield as Wackersdorf in Germany, Salbris in France and the delights of the Lake District in Cumbria across the summer.
In the European Series Ollie had a great four days in Germany at the start of the holidays winning both races. This put him in the lead of the European Series going into the final round in France a couple of weeks ago. Alas the race didn't go as planned… after three days of testing and racing in the heats , Ollie was to line up the first Final on Sunday from 3rd on the grid (38 drivers) knowing that two top three finishes would be enough to give him the overall Championship.  However a catastrophic error by Ollie's mechanic on the Grid when they were lining up for the first final meant he was punished by having to start from the pit lane flat last instead of 3rd . Essentially this meant his chances of overall victory were taken away. Doing his best to fight through to success Ollie managed to move up to 13th from last meaning he had to win the last final to have any chance. In this last final he managed to drive from 13th to 5th but this was not enough, so a great disappointment but a fine show of resilience in a difficult situation. Ollie finished the Euro Series as Vice Champion so a good result but not where we had wanted to be.
In the British Championship Ollie is currently leading with two more rounds to go. He has won over the summer in Scotland and Wigan giving him a slender lead. The final rounds are at the end of September.  
British Kartmasters GP is the largest one off race in the Europe attracting over 300 drivers competing during five days with previous winners including Lewis Hamilton and Jenson Button amongst others.
Ollie came first winning the 2019 Grand Prix securing a prize which included a fully paid entry to the World Finals in LeMans! Congratulations Ollie on a very mature performance.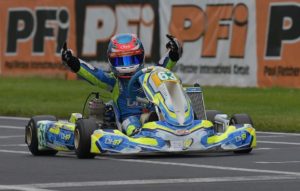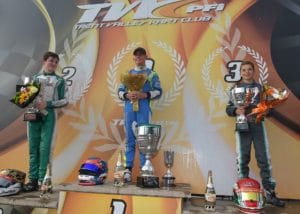 Back to all news