Half Term Netball Camp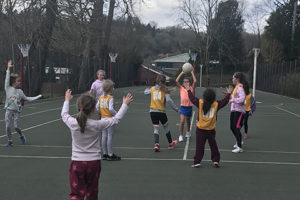 Over February Half Term the Netball Academy hosted a camp. The beautiful weather meant we were able to get outdoors and enjoy the sunshine on the Shirley Goss courts.
We made use of the extra posts in the morning, playing lots of shooting and passing games to help everyone warm up and get their eye in ready for an afternoon of match play! The afternoon saw the girls try their hand at different variations of netball including korfball, netball tag and bench ball. Well done to everyone that came along; some budding netballers in the making! 
The Netball Academy hosts weekly term time sessions on Tuesday and Wednesday evenings, as well as a Back to Netball group who train and play every Thursday (8.30-9.30am). Contact [email protected] for further information or details. 
Back to all news