Holocaust Survivor Engages Third Year Pupils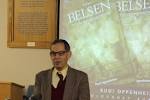 We were delighted to welcome back Holocaust survivor Rudi Oppenheimer to talk to the Third Year about his experiences. Rudi was kind enough to stay for the afternoon of Wednesday 21 March where he told pupils of his experiences moving from Germany to Amsterdam and then his time in several concentration camps. Our pupils asked a range of interesting and thoughtful questions and remained enraptured during the talk.
We are enormously lucky that we can still have this experience, and it was a talk that will remain with our pupils for a very long time indeed. 
Back to all news