House Spirits are High
House events were back in full swing again this week with the junior and senior table tennis competition. House table tennis has always had been a hugely popular event and the number of participants battling it out with bat and ping pong ball means the House spirit on show is high octane and high volume!
As with the badminton last week, the skill levels on show are mixed; but the enjoyment felt by novices and seasoned professionals alike is obvious for all to see. A huge thank you to Mr Stamper for his titanic feat of organising a house event that has 12 pupils from each house for each age group.  In the juniors Aldercombe and Lewisham were victorious in the boys and girls competitions respectively – but the true winner was definitely House Spirit!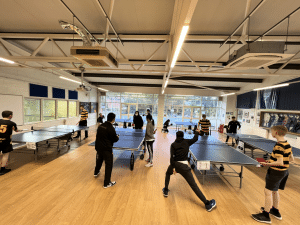 Back to all news